Home
›
Fiji Luxury Vacations
Fiji Luxury Vacations

Want to know the top options for Fiji luxury vacations? Explore which are the top resorts on the most idyllic locations that offer pampering second-to-none.

You will be pleased to know that Luxury Fiji resorts are on par with that of anywhere in the world. And lucky you! This section is the hub point for all information regarding luxury in Fiji.

The Fiji luxury vacations contents:
• Luxury Fiji accommodation
  - Fiji Luxury Hotels
  - Fiji Luxury Resorts
• Luxury rates
• Luxury honeymoon
• Luxury family
• Top luxury resorts
• Luxury tips
• Shopping
It's a tantalising mix of stunning beaches, exotic picturesque islands, and year-round warm weather. The people are as laid-back and friendly as I've seen world wide, the food is fresh and scrumptious, then just add a luxury resort to the mix.
If that sounds like your next holiday...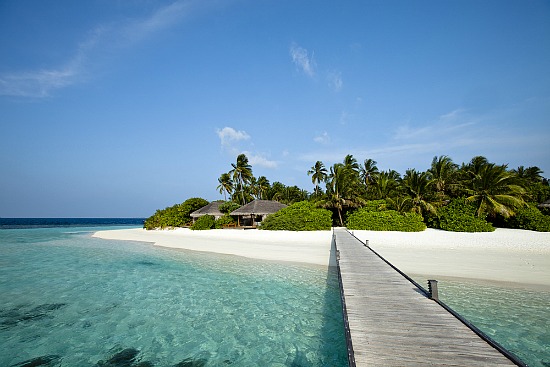 ... then you're at the right place.

Luxury Fiji Accommodation

Luxury vacations in Fiji are on par with the best in the world for tropical islands. Top-end luxury Fiji accommodation are generally 5-star resort chains or upmarket island resorts.

Some of the things you can expect:
world class rooms and bures (often your stand-alone bure is on a white sandy beach)

huge pools with swim-up bars
on beach location
relaxing day spas
gourmet restaurants
complimentary non-motorised acitivities
tour desk with various options such as diving, snorkeling, parasailing, villiage tours, day cruises to name a few

Fiji Luxury Hotels
It's pretty easy to find where all the Fiji luxury hotels are located. Virtually all are on upmarket Denarau Island, and what's more Denarau is just 20 minutes from Nadi International Airport. Here you'll find the big 5-star international chains such as Hilton, Sheraton, and Sofitel. Fancy a luxury stopover in Fiji?
Fiji Luxury Resorts
The most fabulous luxury Fiji accommodation can be found remote on far flung islands, more often than not on their own island. You can find all the bells and whistles, topped with the renown warm Fijian hospitality. And oh yeah, this is where the rich and famous come to play.
Check below for the creme de la creme of luxury Fiji resorts.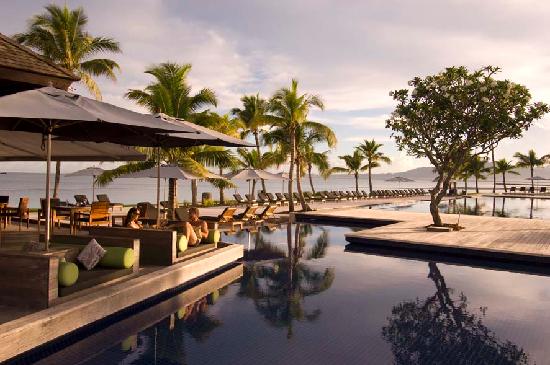 Hilton Hotels' Fiji Beach Resort & Spa - photo courtesy of TripAdvisor


Luxury Rates

Luxury Fiji resort prices start from around US$250/night and it doesn't top out until the five-figures-a-night mark. Even more if you want to book the entire resort.


Luxury Honeymoon
There truly is some amazing luxury accommodation aimed at the couples market. If you're looking for adults-only resorts that specifically cater for honeymooners then check our Fiji Honeymoon section which leads into honeymoon packages, beach weddings and our '10 of the Best Honeymoon Resorts of Fiji' list.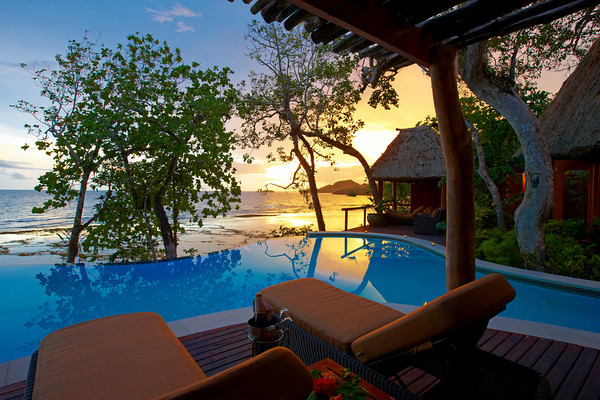 Namale Fiji Resort & Spa, one of the premiere Fiji honeymoon resorts


Luxury Family

If you're looking to bring the family, check out our Fiji Family Holidays page which leads into our 'Top Fiji Family Resorts' list.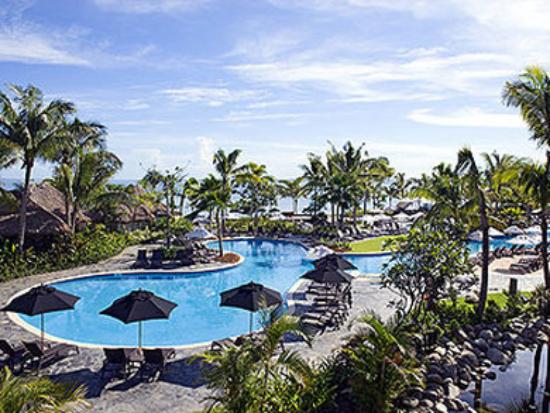 Sofitel Fiji Resort and Spa - photo courtesy of TripAdvisor

On the Fiji family resorts list, you'll find a couple of luxury family resort options.


Top Luxury Resorts

If you're ready to lap up luxury, check out our '10 of the Best Fiji Luxury Resorts' list.
There's something a little different to suit most tastes including eco-friendly, 7-star uber-luxury, secluded resort on it's own island, close to tours and activities, and even having your OWN island! Yep, it's paradise.

Resort transfers

Fiji cruises and helicopter flights are also exciting ways of checking out Fiji if you can be pried away from your beach chair. Also, as well as seaplanes, can be your mode of travel to/from your Fiji luxury resort.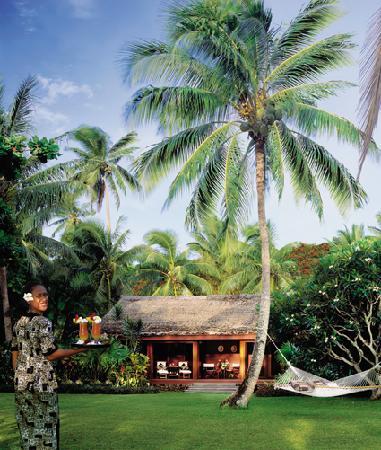 Wakaya Club Fiji, where those that have everything go to get away
photo courtesy of TripAdvisor


Luxury Tips

For ideas on how to be uber-pampered, check out our Top 10 Luxury Fiji Holiday Tips page!


Shopping

You won't find Louis Vuitton dresses or Gucci handbags here.
What you will find is some wonderful traditional artifacts and interesting handicrafts often straight from the village.
Popular items include:
traditional war clubs, spears and chiefly cannibal forks
kava (pacific island narcotic drink) bowls
handwoven mats and baskets
sandalwood or coconut soap
bark cloth (masi) wall hangings
books and postcards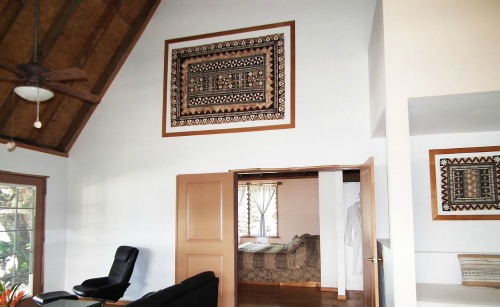 A bark cloth wall hanging in Kulu Bay Resort, Fiji

I found pottery and furniture to be of high quality, although it would take quite a bit of effort to get it on the plane and back to your home country.

The best places to shop are Suva, Coral Coast, and Nadi.



Return from Fiji Luxury Vacations page to Amazing-Fiji-Vacations homepage
About Me | Contact Me | Search this Site | Privacy Policy 

By Paul Atkin, Copyright © 2012-2014 Amazing-Fiji-Vacations.Com