Home

›

Fiji Hotels
›
Fiji Beach Resort & Spa (Hilton)
Home

›

Denarau Island
›
Denarau Accommodation
›
Fiji Beach Resort & Spa (Hilton)
Fiji Beach Resort & Spa

(Hilton Hotels)
Need a convenient luxury option in Fiji? Explore the Hilton Hotels' brand in Fiji with it's Fiji Beach Resort & Spa complex suitable from solo to families.
The Fiji Beach Resort & Spa contents: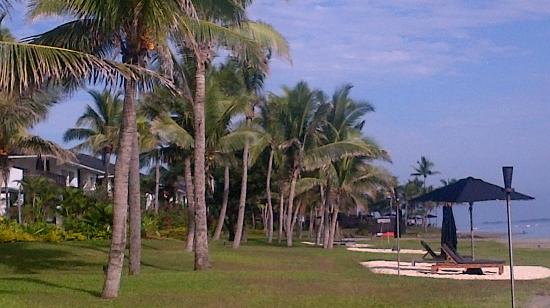 photo courtesy of TripAdvisor


Basics

Name: Fiji Beach Resort & Spa

Location: Denarau Island, Viti Levu, Fiji
Class: 5-star hotel resort

Accommodation: 273 hotel rooms

Transfer: 20-minute land transfer from Nadi International Airport

Reviews: Fiji Hilton's reviews receives on average a 81% satisfaction rating on TripAdvisor (at time of writing)
Who does Fiji Beach Resort & Spa suit?

Hilton Hotels' Fiji Beach Resort & Spa suits those wanting a luxurious stay close to everything.
It doesn't suit those wanting nice beaches, a real Fijian experience, or a secluded out-of-the-way holiday.

Location

Hilton's Fiji Beach Resort is located on Denarau Island on the west coast of the main island of Viti Levu. Denarau is a private upmarket island connected to the mainland via a short bridge and is just 20 minutes from Nadi International Airport.
Getting There

Firstly, you need an international flight from your home country to Nadi International Airport in Fiji.
Once arriving, it's an easy 20-minute taxi ride (FJ$30 for four people) to Hilton Resort on Denarau Island.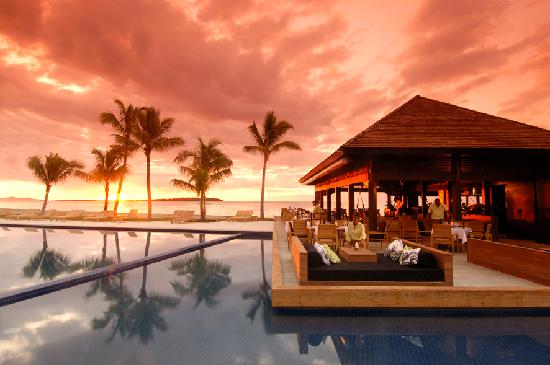 photo courtesy of TripAdvisor

Accommodation

Fiji Beach Resort & Spa has 273 luxurious rooms ranging from garden view studio to 3-bedroom beachfront.
You can expect the usual high standard renown with Hilton Hotels. One to note is the wonderful open plan style of the villas, providing plenty of space complemented with ocean views.
All rooms have:
air conditioning
bath
balcony
ceiling fans
hair dryer
mini bar
TV
tea & coffee making facilities
All rooms except for studios additionally have:
full kitchen
laundry facilities
BBQ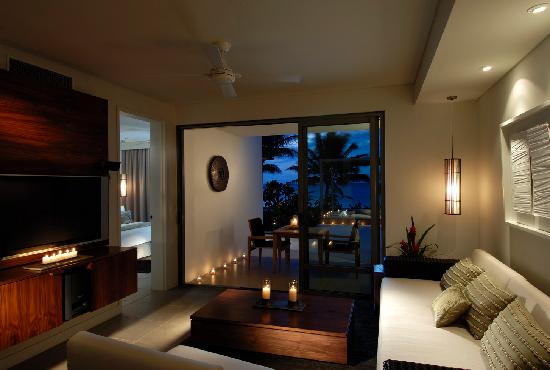 photo courtesy of TripAdvisor

Dining

Fiji Hilton has 3 restaurants to choose from including the highly rated Nuku restaurant. 24-hour inroom dining is available. All rooms except studios have a BBQ so bbq packs can be arranged.
A beachside romantic dinner on the beach, as shown below, is pretty hard to beat.
Access to nearby luxurious resorts' restaurants are within walking distance. Just a tad bit farther is Port Denarau where you will fine a great selection of eateries and restaurants.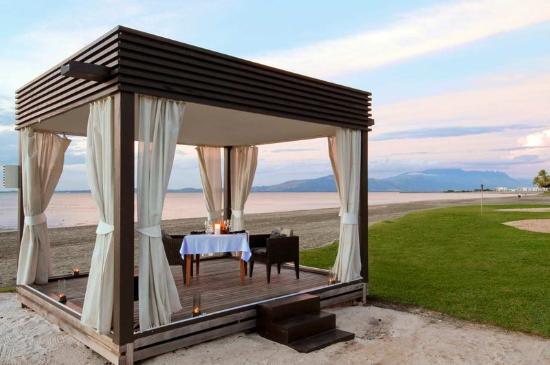 photo courtesy of TripAdvisor

Activities

An astounding 7 pools, including an adults pool, means you can try a different one each day. The choice just keeps coming, although most attract a fee:

fitness centre
jetskiing
waterskiing
windsurfing
wakeboarding
sailing
fishing
Snorkelling is not suitable on Denarau Island. Other nearby activities include:
18-hole golf
tennis
scuba diving
Denarau's convenient location means access to off-site attraction's also. Start with our 5 Things to do around Nadi. Just a word of warning, don't expect any nice beaches. You need to go off the main island for that.

Cruises
Speaking about going off the main island, also at Port Denarau is Denarau Marina, where most of Fiji's cruises leave from. The port is so close, you could walk there. Visit our hub Cruise Fiji section for more.
Spa
It just wouldn't be complete without a professional day spa service, which Fiji Beach Resort & Spa has. For extra pampering, receive your treatment poolside.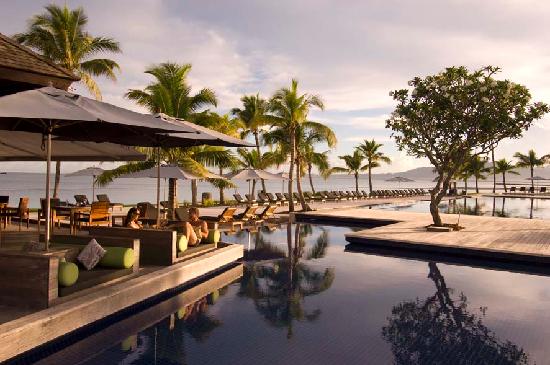 photo courtesy of TripAdvisor

Kids

Need to take a break from your kids? Then the resort's free kids club will certainly do the trick. Open from 9am - 5pm, the littlelees will be looked after with fun activities throughout the day. It's available up to 13 years of age, although under 4's need a nanny, either yourself or by hiring one.
Another bonus, all children aged up to the age of 17 stay for free.


Rates

Depending on the season, you could find rates almost as low as US/AU$200 per room per night.
For more information on Hilton Hotel's option in Fiji, visit their site at http://www.fijibeachresortbyhilton.com.



Return from Fiji Beach Resort & Spa (Hilton Hotels) page to the hub Hotels in Fiji page
Return to Amazing-Fiji-Vacations.com homepage

About Me | Contact Me | Search this Site | Privacy Policy 

By Paul Atkin, Copyright © 2012-2014 Amazing-Fiji-Vacations.Com