Home
›
Fiji Budget Getaways
Fiji Budget Holidays

Want to escape to Fiji on the cheap? Budget holidays in Fiji can be done and here's how to find those island getaways hidden on secluded tropical islands.

The Fiji Budget Holidays contents:
Great budget island getaways with Awesome Adventures Fiji


Is Fiji a Budget Destination?

Fiji is a stunning destination to be sure. It has everything from year round warm tropical weather, stunning natural beaches, great diving, remote accommodation on secluded islands, to the friendliest people in the world. But how accessible is it?
Mid-priced
The short answer is that, it would be fair to say that Fiji is a mid-range price destination. Many travellers are caught off guard when they arrive and find out it's not a US$20-a-day travelling destination. It won't provide the same value as say most of Asia or Central America.
Fiji primarily caters for mid-to-high-end visitors with the focus of spending your vacation in one location, usually at an exotic resort or/and island. Consequently, this is the focus of travel agents as they market their packages.

Budget Getaways

Amazing-Fiji-Vacations.com is focused on providing relaxing getaways in superb locations in Fiji. So, sorry to say, I'll only be giving information along these lines. That is relaxing budget getaways as opposed to 'travelling' or 'backpacking'.
In saying that though, I have a recommendation below that incoporates both, relaxing on secluded islands aimed at budget travellers!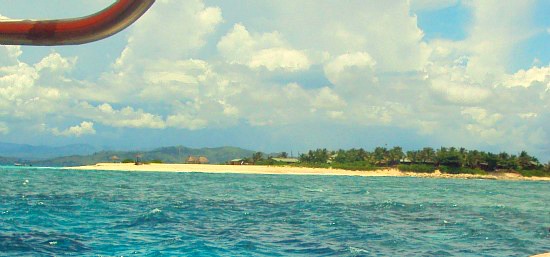 Fiji Budget Ideas

In general, and this applies across the board not just budget, staying on the main island of Viti Levu offers slightly better value then going off to outer islands.
Unfortunately though, the main island is virtually devoid of nice beaches and good snorkelling. And if that's what you came to Fiji for, then you'll probably be disappointed.
Firstly, you'll arrive on the main island at Nadi International Airport near the town of Nadi, then you go from there.
Below is what I personally would do next, if I came to Fiji for a budget holiday...


Budget Island Getaways!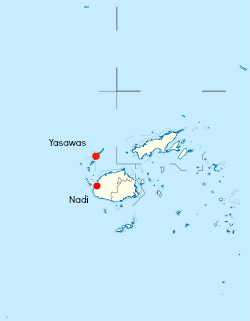 Close to Nadi just offshore is the tourist friendly and stunning Mamanuca Islands. They have more exquisite resorts per square inch of white sand beach than in all of Fiji! There are some great budget locations here, but bear with me.
Slightly farther past the Mamanucas is the equally gorgeous but less crowded Yasawa Islands (shown on the map). When I mean gorgeous, I mean picture perfect islands, clear waters, with white sand beaches, the ones you see on the postcards.

There some stunningly beautiful islands and resorts out here. And I'm talking about exotic islands with on average of around 1 or 2 resorts per island. And here's where things get more delicious. Most are small budget-friendly resorts,
many operated by local villages. Have you heard how Fijians are the friendliest people in the world? Well, from my global trekking antics that's the case, and that's the type of wonderful hospitality you get!


Awesome Adventures Fiji

This this what I would do :)
For me, when I think of Fiji, I want to relax on remote beautiful beaches with some exploring mixed in.
There is a way to do this in the Yasawas and it's even better than you might think. Awesome Adventures Fiji has:
great island packages and

flexible island hopping passes (including accommodation)

These include around 20 tropical islands with over 30 resorts!
Awesome Adventures Fiji is a budget getaway specialist that operates mainly for the Yasawa Islands. It's island hopping passes are spectacular and a one-of-a-kind in Fiji.


1. Budget Packages on Mulitple Islands and Resorts

Awesome Adventures Fiji has 5 different length of packages ranging from 12 days/11 nights/5 islands to 5 days/4 nights/2 islands.
Awesome Adventures Fiji packages are not organised 'tours', however, local guides are available at many of the destinations. Booking a package simply means that you can book your accommodation, transfers and activities in one easy itinerary.
Check them all out here on our Awesome Adventures Fiji Packages section.


2. Fiji Island Hopping

Have you heard of island hopping spectacular islands picking and choosing which islands and resorts to stay on/at, and for how long?
This uniquely amazing island hopping adventure is explained in detail on our Fiji Island Hopping section.



Coral Coast Getaways

(coming)



Return from Fiji Budget Holidays page to Amazing-Fiji-Vacations.com homepage

About Me | Contact Me | Search this Site | Privacy Policy 

By Paul Atkin, Copyright © 2012-2014 Amazing-Fiji-Vacations.Com