Home
›
Fiji Accommodation
Fiji Accommodation

Looking for Fiji accommodation for your perfect holiday? Discover these exotic options from budget huts to island resorts to luxurious villas.
The Accommodation in Fiji contents: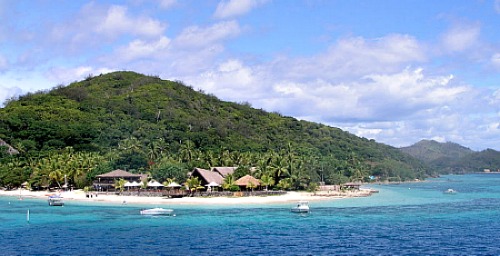 The focus of Amazing Fiji Vacations dotcom is to find the best resorts in the most exotic locations such as Castaway Resort Fiji


Fiji Accommodation Types

The range of accommodation in Fiji is extensive. Check these out:

timeshare
beach shacks/beach bungalows
Bed & Breakfast
hostels
home-stays (including village home-stays)
vacation rentals
tree-houses
campgrounds
beach house rentals
and how about your very own Fiji island! (that's fairy tale material!)
I wasn't pulling your leg about the array of Fiji holiday accommodation available!

This Site

The Amazing Fiji Vacations dotcom website focuses on resorts while also including some hotels and a sprinkle of budget accommodation.
This site is about finding resorts in the most exotic locations in Fiji. Thus is what you'll will mostly find.


Budget
The Fiji budget traveller would generally be looking at ccommodation options like budget resorts, backpackers, and campsites. These are available on the main island of Viti Levu, and on the island groups Yasawa and Mamanuca. Prices start at around FJ$30 for a dorm bed.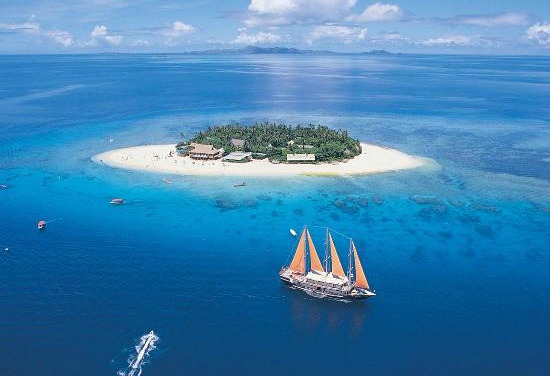 Yes, this is a real photo, Beachcomber Island Resort Fiji
photo courtesy of TripAdvisor

Some of these budget resorts have accommodation-and-meals vacation deals, as sometimes there are no facilities or restaurants nearby. Prices fluctuate but start from around FJ$60 for those cheap vacation packages.

Mid-range
This is where you'll find the bulk of Fiji accommodation which is resort style. Generally you're looking at around FJ$120 to $250 per room. Lucky for you, this is what Amazing Fiji Vacations dotcom focuses on. Start at our hub Fiji Resorts section which is the hub for all information regarding resorts in Fiji.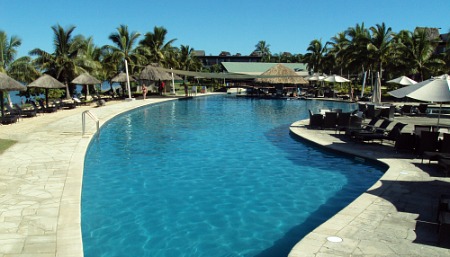 Our resort's gigantic pool (part of it) and swimup bar

The most popular style resort is honeymoon, which are adults-only. Also, some resorts focus on families, and others on luxury.

Non-motorised water activities are generally included with mid-range resorts and up.

Top-end
Luxury accommodation in Fiji is on par with that of anything in the world. Starting from $250/night it doesn't top out until reaching almost 5 figures. Elegant lobbies, manicured gardens, stunning beaches, top-notch restaurants, activities aplenty, and exotic rooms are the order of the day here.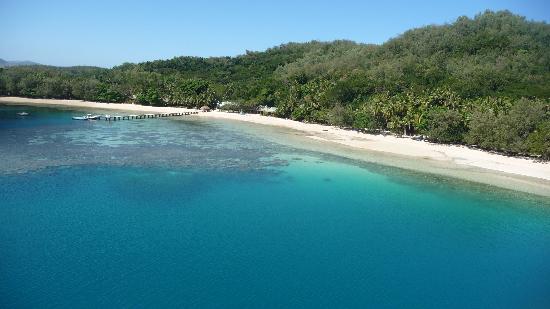 The fabulous Turtle Island, eco-friendly and luxurious  - photo courtesy of TripAdvisor

A popular, and what Fiji does well, is catering for honeymooners or couples with spectacular and luxurious adults-only resorts. Your honeymoon is a once-in-a-lifetime (here's hoping) magical moment. So it may be worth while splashing out that little extra to stay at that secluded exquisite honeymoon resort. You also could be the envy of your friends by having a beach wedding to boot.
For your luxury 'needs', start at our hub Fiji Luxury Vacations section, your hub for all things luxurious in Fiji.



Return from Fiji Accommodation page to Amazing-Fiji-Vacations homepage
About Me | Contact Me | Search this Site | Privacy Policy 

By Paul Atkin, Copyright © 2012-2014 Amazing-Fiji-Vacations.Com