Home
›
Fiji Weather
Fiji Weather
How's the Fiji weather for my vacation/holiday? Find that out and more with the current weather, climate graphs, and even an interactive forecast predictor for your holiday dates.

The contents are:
Below is today's weather conditions of Nadi International Airport, where you will be flying in...

... let me guess, it's paradise on the Fiji islands again!
(In case you were wondering, it's spelt 'Nadi' but pronounced 'Nan-di'.)


Weather Forecast For Your Vacation

You're probably itching to see the 5-day, 15-day, or any near future dates of the weather forecast for your upcoming relaxing vacation/holiday.

Fiji Climate

If you want to find out more about the overall climate of Fiji, i.e. the long term weather patterns:

For me to consider a place to be 'paradise' , it has to have all year round warm weather.
Fiji is that...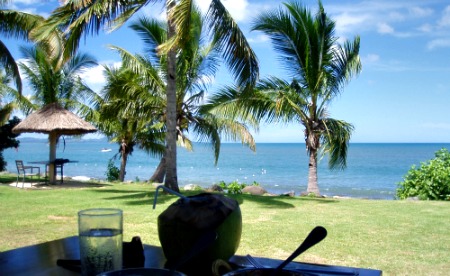 Clear skies and warm as I enjoy my lunch on Denarau Island near Nadi

A particularly pleasant aspect of Fiji is that it's temperatures don't fluctuate. In fact most of the year, temperatures hover in the 25°C (72°F) to 31°C (87°F) range. It's differs marginally from the 2 main islands to the numerous smaller islands.
When warm rain does pass through, it's usually brief. A good time to go inside for a cup of tea, read a chapter in that book, or even an afternoon nap. Personally I find it extremely refreshing to jump in the pool during the brief shower. Sometimes I hang out at the pool bar and quench my thirst!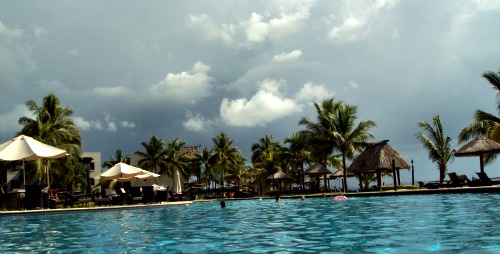 In our Fiji resort pool as the ten minute storm passes over... enough time for a quick drink at the swim-up bar :-)


Fiji Meteorological Service

Find out about the Nadi-based Fiji Meteorological Service.


Fiji Islands Weather

This is coming soon with weather information for the outer islands.


Unlike other holiday destinations around the world, there are minimal extremes in temperatures. That means, whichever island you are staying on, and whatever time of year you decide to take your Fiji vacation, it's only a few degrees-of-paradise difference B-)


Return from Fiji Weather page to the hub Fiji Tourism Information page

Return to Amazing-Fiji-Vacations homepage
About Me | Contact Me | Search this Site | Privacy Policy 

By Paul Atkin, Copyright © 2012-2014 Amazing-Fiji-Vacations.Com