Home
›
Getting to Fiji
Flights to Fiji

Are you looking into an exotic Fiji vacation? Discover information on flights to Fiji to get you started for planning your relaxing holiday!

The Fiji Flights contents: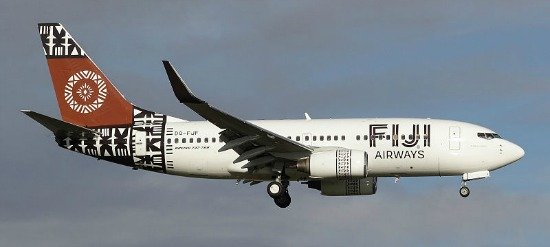 The revamped Fiji Airways


Basics
Where do I arrive?

There are two international airports in Fiji. However most passengers will arrive into Nadi International Airport (NAN) which is situated 9km out of the township, Nadi. Nausori Airport (SUV) near the capital Suva, is used primarily for domestic flights with the occasional flight to neighboring South Pacific nations.
Tourism High Season

High season is between April and October. As is the periods of Christmas and the New year.
Fare High Season

Flight fares peak between April and June and also in December and January.

Departure Countries

Australia
Flights to Fiji from:
Usually take 4 to 4½ hours one way. Qantas, Fiji Airlines' Fiji Airways, and Pacific Blue are your carrier options.
Prices can vary anywhere from AU$700-$1,500 depending on season and how far in advance you book.
New Zealand
Flights to Fiji from:
Auckland

Christchurch
Wellington

Flights take around 3 to 4 hours. Air Pacific and Air New Zealand operate here.

Prices vary from NZ$600-$1,400 depending on the season and how far in advance you book.

U.S.
Fiji (as well as Hawaii) is a major stopover for trips from the west coast of the U.S. to Australia or New Zealand. Flights from:

Hawaii - 5 hours

Los Angeles - 10 hours
Prices vary considerably anywhere from US$1,200-$2,000.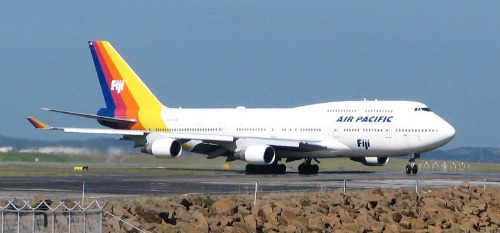 A Fiji Air Pacific (now Fiji Airways) airplane at Sydney Airport

Asia
Direct flights from:
Hong Kong

Korea - Via Korea Air from Seoul to Nadi.
Indirect flights from:
Flights from South-east Asia go via Australia or New Zealand. Below are popular departure points:
Singapore
Bangkok (Thailand)

U.K. and Ireland
London is the king of discount travel in Europe. You can expect a London to Nadi return trip to be £600-1,800 depending on the season.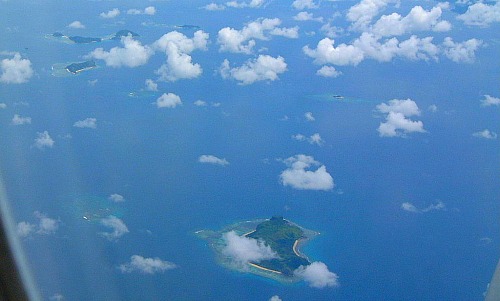 The stunning Mamanucas, Fiji (notice the beautiful beaches!)

Continental Europe
Prices are similar for departing from most of cities on the mainland. Expect prices to be €1,000-2,000.

Pacific Countries
Fiji Airlines' Fiji Airways has flights to the following neighbouring Pacific nations:
Samoa

Tuvalu

Tonga

Vanuatu

Kiribati

Solomon Islands

Other nations that fly to Fiji with their national carriers:
Vanuatu - with Air Vanuatu

New Caledonia - with Aircalin

Solomon Islands - Solomon Airlines



Getting to Fiji

There are 2 main airport hubs in the Pacific, Fiji being one (and Hawaii being the other). Flights to Fiji come in the form of the main routes being, to/from North America, Australia and New Zealand.
If Fiji isn't your final destination (who doesn't like idyllic holidays!), visitors can stopover in Fiji on their way through. So if you're on a stopover or on your round-the-world ticket, make sure you stay at least a couple of nights.

However, I'm willing to bet you would want to stay longer!
It is also possible to enter Fiji by sea via a cruise to Fiji or by yacht, although not as common.

Entering Fiji

There are 2 International airports in Fiji, both on the main (and largest) island of Viti Levu. Most airline visitors will arrive at Nadi International Airport (NAN).
Nadi airport (Nan-di) is just 9km from the township of Nadi. This is quite handy as Nadi, on the north-west side of Viti Levu, is the hub to get to the popular island groups of Yasawa and Mamanucas.
You will be greeted with big smiles, friendly bula's, and of course the mandatory warm weather. A band might come around singing island music and welcome you by putting a flower necklace around your neck. The airport is relatively small so you'll be off to your designated transport in no time. Their security is also very relaxed as I once accidentally bypassed the luggage scanning machines without anyone noticing!
Visit the Fiji Tourist Information section for more including what to bring and what you need to enter Fiji.



Return from Flights to Fiji page to Amazing-Fiji-Vacations homepage

About Me | Contact Me | Search this Site | Privacy Policy 

By Paul Atkin, Copyright © 2012-2014 Amazing-Fiji-Vacations.Com