Home

›
Cruise Fiji
›
Cruises to Fiji
Cruise to Fiji
Want to take a cruise to Fiji? Find out about cruises that go through the exotic Fiji islands. It doesn't get much better than a getaway cruise that stops in tropical paradise.
The Cruise to Fiji contents:
Cruises within Fiji

However if you planning a Fiji vacation trip and wanting cruise/sailing options within the Fiji islands, then there are some stunning options available. And speaking from experience, it certain adds another dimension to your already relaxing vacation/holiday. Check out our Fiji Cruises section for details.


Cruise Ships
Prior to 1980, cruises offered deck chairs and umbrellas with little else. From 1980, amenities began to increase until today, 2012 and beyond, it's a small city of water.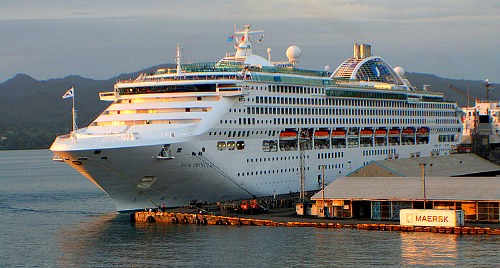 The Sun Princess docked at King's Wharf, Suva, Fiji

Modern cruise ship amenities include:
restaurants (buffet, 24hrs)
shops
bars
lounges
nightclubs
casino
fitness center
library
theatre
cinema
indoor/outdoor swimming pool
Some ships may also have:
bowling alley
ice skating rink
rock climbing walls
miniature golf course
video arcades
ziplines
basketball courts
tennis courts
and even pool tables!

Cruise Lines that stopover in Fiji
There are two major cruise corporations in the world; Royal Caribbean International and Carnival Corporation.
Some of Carnival Corporation's many cruise line subsidiaries offer stopovers to Fiji. These include:
P&O Cruises
Princess Cruises
Holland America
Cunard Line
Costa Cruises
Seabourn Cruise Line
There are many cruises with various cruise lengths. The shorter cruises around 7-17 nights have their itinerary, including departure port, in and around Australia, New Zealand, and the Pacific islands.
MS Venture, P&O Cruises

The longer cruises, typically over 20 days in length, have departure and arrival ports including: Sydney, L.A., Vancouver, Seattle, Honolulu, Auckland and Tahiti.
Royal Caribbean generally offer 9 to 18-night cruise itinerary's that stop in Fiji. The usual point of departure being Sydney and Honolulu.
Other Cruise Lines which offer stopovers in Fiji include:
Oceania Cruises
Peter Deimann Cruises (German)
Crystal Cruises (Japanese)
Paul Gauguin Cruises (departure and arrival ports of Tahiti and Fiji)

Fiji Ports
Depending on which cruise you take depends on which of the following Fijian ports you stopover at: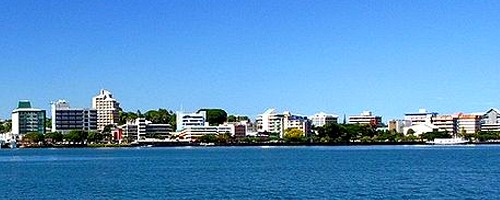 A view of Suva from the harbour

The quiet months for stopping over in Fiji are from April to August. That's the months leading up to and including winter. Be careful... for the Fijian winter can be brutal with temperatures bottoming out in July at 18°C (64°F)!

Planning your cruise
There are many cruise lines with various cruise lengths with various itineraries.
Cruise Durations

Cruise lengths vary from just a couple of days to popular lengths of 7-21 days to the ultimate 365 days a year where you purchase a suite and live on it.
Nice for some waking up to a different destination each morning!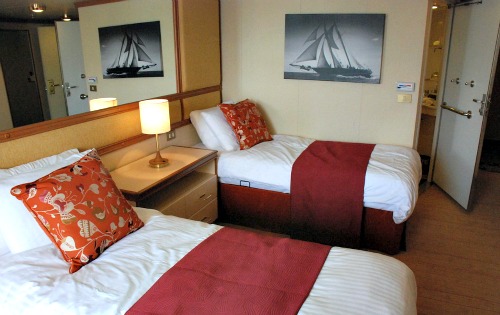 Twin cabin from MV Azura, P&O Cruises

Cruise Themes

Also each cruise line and each ship have varying amenities with various levels of service. Some are luxury, some are adults-only, some are family orientated, some may speak predominantly Japanese to name a few.
So it's important to choose your cruise carefully to avoid disappointment. You probably wouldn't want to be an elderly couple on a party cruise aimed for under 25 year-old's!

Departure and Arrival Points

Of course another factor to consider are the ports of departure and arrival. Sometimes they are different. So you may need to travel interstate or abroad in order to take that particular cruise.
Bottom line, a cruise to Fiji should definitely be on your itinerary!


Return from Cruise to Fiji page to hub Cruise Fiji page

Return to Amazing-Fiji-Vacations homepage
About Me | Contact Me | Search this Site | Privacy Policy 

By Paul Atkin, Copyright © 2012-2014 Amazing-Fiji-Vacations.Com