Home

›
Major Towns
›
Lautoka
Lautoka Fiji

Want to know more about Lautoka Fiji? It's easy to explore Fiji's second biggest city, being just a short trip (33km north) from Nadi. Get the lowdown on the 'Sugar City' here.

The contents for Lautoka Fiji are: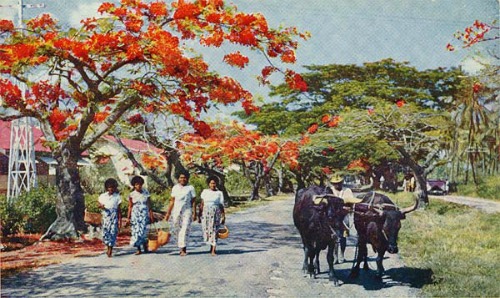 Lautoka postcard, believed to be from 1956

Lautoka is the second largest city and has a population of 52,000. Situated on the western coast of Viti Levu, it is only 24km north of Nadi.

History

According to oral tradition, long ago when two chiefs were in a heated argument, one speared the other and cried out 'lau toka'! It means 'spear hit' and thus the town's name today.

Sugar City

In recent history, sugar has been the backbone of Lautoka's industry and hence is given the name 'Sugar City'. Located in a sugar growing district it has the largest sugar mill in the southern hemisphere, opened in 1903, and is also the largest employer in Lautoka by far. You will notice the population is predominantly Indo-Fijian (read the history in our Fiji Indian section) descendants of the indentured labourers brought to Fiji to work the sugar fields.

Sugar train entering Lautoka


Information

Naviti St, perpendicular to Shirley Park (shaded in green on map) is where you will find a selection of eateries. Other important information:

Lautoka Hospital, Thomson Cres (shaded in pink on map)
Police, Tui St (end of Naviti St) and Drasa Ave

Banks - various banks along Naviti St and Vitogo Pde
Internet cafes - various cheap internet cafes around the same area

Getting to Lautoka

Car hire - the best place to hire is from Nadi International Airport. Check our Car Hire Fiji section for details.
Local Bus - from Nadi, you will arrive at a bus station on Yasawa St (end of Naviti St so is handy to walk around) and should cost you around FJ$2-3. Yes, that's cheap.


Sights & Activities

There is not much as far as tourist attractions are concerned and no beaches. The highlights are:
Lautoka Sugar Mill (shaded in grey near coast)
Lautoka Golf Course (9 holes, in green on map)
Blue Lagoon Cruises (in our Fiji Cruises section) uses Lautoka Port for it's Yasawa cruises (Vitogo Pde)
Sri Krishna Kaliya Temple (Tavewa St (adjacent to Shirley Park), open 8am-6pm vistors welcome) - Fiji has the highest percentage of Hare Krishnas per capita in the world


Lautoka Google Map

It is recommended that you click 'View Larger Map', also located directly below the map, for a more pleasurable full-screen viewing experience.

View Larger Map

Accommodation

There are a few nice accommodation options in Lautoka. Visit our Lautoka and Rakiraki accommodation section.


Return from Lautoka Fiji page to City Fiji List page
Return to Amazing-Fiji-Vacations.com homepage

About Me | Contact Me | Search this Site | Privacy Policy 

By Paul Atkin, Copyright © 2012-2014 Amazing-Fiji-Vacations.Com