Home

›
Cruise Fiji
›
Fiji Cruise Operators
Operators of Fiji Cruises

Want to take a cruise while vacationing/holidaying in Fiji? Discover Fiji cruises here with various itineraries which adds another layer to your getaway. This page holds information regarding cruise operators in Fiji.

The Cruise Fiji Operators contents:
(photo courtesy of TripAdvisor)
Hub Cruise Fiji Section

If you haven't already, start at out hub Cruise Fiji section which is the hub for all information regarding Fiji cruises.


Overnight Cruise Lines
The well known P&O Cruises offer cruises to Fiji rather than within the Fiji islands and thus is covered in our Cruise to Fiji section.

1. The popular Captain Cook Cruises (be sure to check the video!) information is found here.

2. Blue Lagoon Cruises has over 50 years experience in cruising the Fiji islands. You are sure to be spoilt with its range of options including a fleet of five boutique cruise ships and six fantastic itineraries.
Typically you'll only spend a few hours a day cruising, with the rest of the time spent anchored in a sheltered lagoon and ashore. That means more time for exploring, snorkeling, swimming, enjoying cultural activities or just relaxing on the beach.

3. Tui Tai Expeditions offers various packages and itineraries around Vanua Levu and Taveuni. The packages, including honeymoon packages, usually involve a combination of accommodation on the ship and at a resort. Various activities including snorkeling, diving as well as yoga and massages.
(photo courtesy of TripAdvisor)

Sleeping Onshore

4. Awesome Adventure Fiji - This is island hopping at it's best. On the famous Yasawa Flyer you have the option of 5 to 12-day packages island hopping and staying at various resorts of varying prices. Accommodation is budget to mid-range.

(photo courtesy of TripAdvisor)

Day Cruises
Captain Cook Cruises offers day cruises plus the following operators:

1. South Sea Cruises operates in the drop-dead gorgeous Mamanuca islands and features full and half day cruises. It has a range of fantastic lunch options to a variety of stunning Mamanuca island resorts including Bounty, Castaway, Treasure, Mana, Amanuca, Malolo, and it's very own South Sea Island.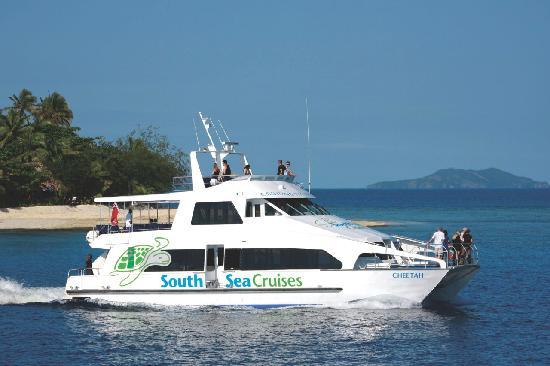 (photo courtesy of TripAdvisor)


2. Stork Cruises - has the 'Oolala' Savala Island day cruise as it's itinerary. It has been getting excellent reviews. 

(photo courtesy of TripAdvisor)

Dive Cruises
1. Nai'a Cruises offer Fiji diving cruises as well as in other South Pacific areas. Fiji known as the 'soft coral capital of the world', you experience this as well as manta rays, sharks, and other fishes in the beautiful tropical waters.
Nai'a can also take you to some of Fiji's most charming remote areas for some truly unique experiences.
It's Fiji's premier live-aboard diving company with her renown friendly crew.


Return from Fiji Cruises page to Cruise Fiji page

Return to Amazing-Fiji-Vacations homepage

* Do you have a wonderful cruise story on Fiji? Some great tips perhaps... do share here!

About Me | Contact Me | Search this Site | Privacy Policy 

By Paul Atkin, Copyright © 2012-2014 Amazing-Fiji-Vacations.Com