Home
›
Fiji Spa Vacations
Fiji Spa Vacation

Looking for the best spas in Fiji? Get the most out of your Fiji spa vacation with this list of top resort spas in Fiji. Relax in the best spas in tropical paradise!

The Fiji Spa Holiday contents:
Namale Fiji Resort & Spa has won many awards with it's stunning cliff top spa

Fiji Spa Getaway

Traditionally a spa getaway would involve lodging facilities with the primary purpose of providing spa participants individual services to develop healthy habits. Typically it would offer a comprehensive program that includes spa services, physical fitness activities, wellness education, and healthy meals.

Guests would attend these wellbeing spa getaways instead of just visiting for a treatment or as part of a vacation. To date, a traditional spa resort doesn't exist in Fiji, but rather exquisite resorts that have a day spa on it's premises.


Fiji Day Spa
The quality resorts and hotels in Fiji will have a day spa. As a rule of thumb, the more upmarket the resort, the higher the quality of the spa facilities. It depends on the resort whether or not outside visitors can have access to the day spa.

A day spa provides it's guests a variety of wellbeing services for the purpose of improving health, beauty and relaxation through treatments such as massages, beauty treatments, and other health therapies.
Additional day spa facilities can include:
sauna
pool
steam room
whirlpool
hot tub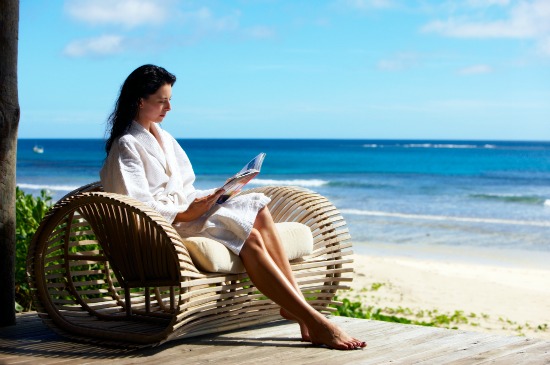 Yasawa Island Resort & Spa waiting area!

Day Spa Treatments

Massage Treatments
Beauty Treatments
facials — facial cleansing with a variety of products
waxing — the removal of body hair with warm wax
body treatments such as body wraps, salt scrubs, etc.
manicures
pedicures
Alternative Therapies
aromatherapy
moxibustion
ear candling
guasha (scraping)
To me, these might as well be in Chinese, but I'm sure the ladies out there know exactly what happens in these treatments.


Top Fiji Spa Packages

The latest Fiji spa packages are found at our Fiji Health Retreats section!



Return from Fiji Spa Vacation page to Amazing-Fiji-Vacations.Com homepage

About Me | Contact Me | Search this Site | Privacy Policy 

By Paul Atkin, Copyright © 2012-2014 Amazing-Fiji-Vacations.Com