Home
›
Fiji Golf
Fiji Golf Holidays

Dreamt of golf holidays in paradise? Find out all about golfing in Fiji with courses on far flung islands suiting weekend hackers and professionals alike.
The Fiji Golf contents: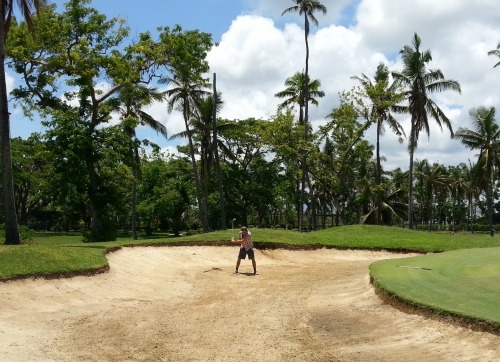 Take no notice of the swing - Denarau Golf Course


Golf in Fiji

Golfing is relaxing and Fiji is relaxing... join the two, and one might think you've gone to heaven.
Tropical weather, paradisaical scenery, relaxed atmosphere... and then there's golf. It's pretty hard to beat, especially if you're a keen golfer. The beer cart that frequently does the rounds certainly doesn't hurt either.

There's plenty of range and levels to suit anyone on their Fiji vacation. Although it does depend where you are holidaying.


Shangri-La Fiji Resort's 9-hole golf course - photo courtesy of TripAdvisor


Golf Courses in Fiji

Fiji golf courses range from beginner to professional, cheap to expensive, and from in the middle of the capital Suva to far flung islands.
Speaking as a pure amateur, I like the laid-back nature of the Fijian culture which adds to a relaxing round of golf. Almost always sunny, the settings are as picturesque as you will find.
Visit our Fiji Golf Club List for all the lowdown. Also, you will find the newly added interactive map to find that special golf course you've been looking for!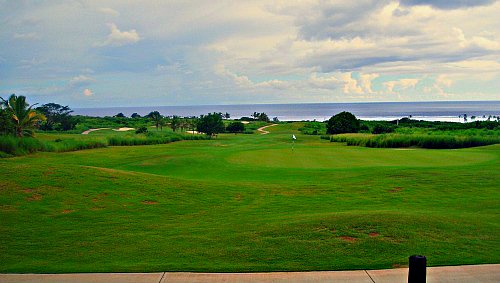 Took one look at the challenging Natadola course then had a beer at the clubhouse instead


Fiji Golf Resorts

A fair portion of the golf courses belong to a particular resort and thus you will find mostly foreigners taking to the greens. Another reason is that golfing is out of the price range of most locals.
Most opt for a round of golf added to their pre-existing holiday/vacation, which isn't too shabby at all. Want to know the resorts with golf courses? Then check out these Top Fiji Golf Resorts and enjoy life!


Return from Fiji Golf Holidays page to Amazing-Fiji-Vacations.com homepage

About Me | Contact Me | Search this Site | Privacy Policy 

By Paul Atkin, Copyright © 2012-2014 Amazing-Fiji-Vacations.Com