Home

›
Fiji Golf
›
Fiji Golf Courses
Fiji Golf Club List

Want to know where to play golf in Fiji? Find out where the golf courses are in this tropical paradise with this complete Fiji golf club list. From beginner courses to professional.

The Golf Courses in Fiji contents by location are: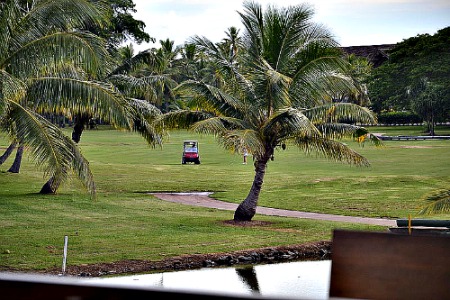 Denarau Golf Course


Courses by Island


Viti Levu

As one might expect, most of Fiji's golf courses are on the main island. They range from world class championship golf courses, to more my level of play, fun holiday courses.

Nadi Airport Gold Club - 18 holes/par 70: Nadi Airport Golf Club is convenience plus, as it's only 5 minutes from all hotels around Nadi. This championship course is challenging and professional. Inquire at your hotel.

Denarau & Racquet Golf Club - 18 hole/par 72: Denarau Golf Course is the centrepiece of the private upmarket Denarau Island. Centrally located, it's within walking distance from all hotels. An enticing flat course, however with water hazards on most holes, I lost my golf-ball allocation by the 4th hole. Green fees is $125 for 18 holes. Owned by Sheraton so discounts apply to Sheraton guests.

Natadola Bay Championship Golf Course - 18 holes: This world class championship course has exquisite views out over the ocean with it's sloped course. This is preciously why, we decided to sit in it's airy clubhouse instead, and take in the breathtaking scenery with a cold drink. Green fees for the Natadola Bay Championship Golf Course Fiji is $230 for 18 holes.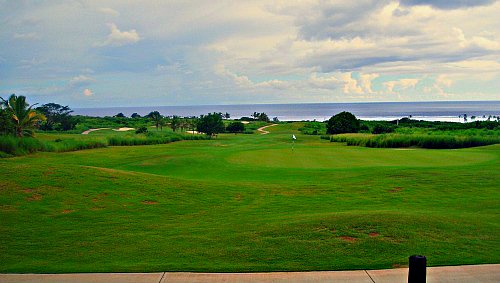 Natadola Bay Golf Course looking over the ocean from the clubhouse

The Pearl Championship Golf Course - 18 holes: Located 20 minutes west of Suva the green fees are $47 (without clubs) for 18 holes. Despite having more sand than most Viti Levu beaches, this challenging course is often preferred over Fiji Golf Club.

Fiji Golf Club (Suva) - 18 hole/par 72: Green fees at Fiji Golf Club are $20 for 18 holes and it's popular with the locals.

Naviti Resort - 9 holes: Naviti Resort Fiji is located along the Coral Coast (South Coast of Viti Levu).

Shangri-La's Fijian Resort & Spa - 9 holes: Shangri La Fiji Resort & Spa is situated on a private island between Sigatoka and Suva on the south coast of Viti Levu.

Lautoka Golf Course - 9 holes: As the name suggests, it's located just outside of Fiji's second biggest city Lautoka, on the north-east coast.

Ba Golf Course - 9 holes: located at Ba on the north coast.

Former No.1 ranked golfer in the world - Fijian legend Vijay Singh

Vanua Levu

Koro Sun Resort - 9 holes: The excellent Koro Sun Resort offers a fun 9-hole golf course that is free for their guests. It's not clear whether it's offered for outside guests.

Namale Fiji Resort - This exclusive luxurious couples resort has it's own 9-hole golf course while also having virtual golf!

Labasa Golf Club - 9 holes: Inquire at your resort for more details.

La Dolce Vita Holiday Villas - 6 holes.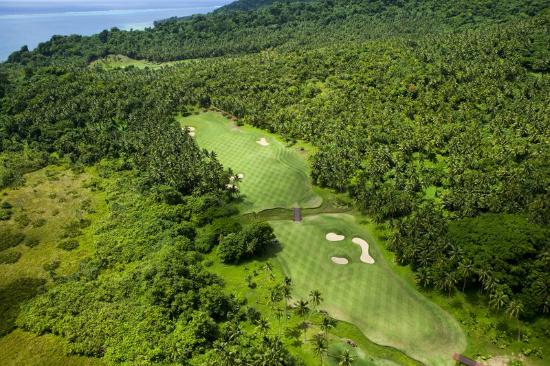 Hole 3 Laucala Golf Course - photo courtesy of TripAdvisor


Taveuni
Taveuni Estates - 9 holes: This is your sole golfing option on Taveuni Island. Green fee is $40. Inquire at your accommodation for further details.
Laucala (Island) Golf Course - 18 holes: This private luxury island is off limits except for those staying at it's 7-star resort. It doesn't get any more secluded, the views any more stunning and the prices any more top-end.


Mamanucas

Plantation Island Golf Course - 9 holes: On Malolo Lailai (Plantation Island) it's your Mamanuca golf option being described as 'island style' and 'fun'.


Lomaiviti Group

Wakaya Club Fiji Resort - Similar to Laucala, this luxurious resort on it's own private island is another option for the rich and famous.  A 9-hole golf course is for it's guests only.


Fiji Golf Courses Map

Have you ever wanted to find where the golf courses are in Fiji? Then look no further than this interactive map labelling all the courses from above. It was a fun exercise putting together the map!


Return from Fiji Golf Club List page to Fiji Golf Holidays page
Return to Amazing-Fiji-Vacations.com homepage

About Me | Contact Me | Search this Site | Privacy Policy 

By Paul Atkin, Copyright © 2012-2014 Amazing-Fiji-Vacations.Com