Home

›
Popular Islands
›
Laucala Island
Laucala Island Fiji

Want to know the most opulent resort island in all of Fiji? Discover Laucala, a 7-star island resort with a getaway fit for kings and sultans.
The Laucala Contents: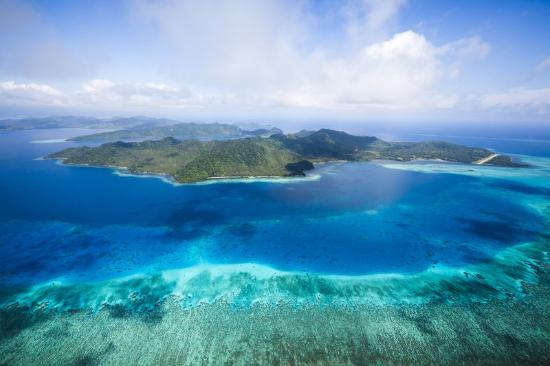 Laucala Island - photo courtesy of TripAdvisor


History

Laucala's modern history started in 1869, when self-proclaimed king of Fiji Ratu Cakobau while ceding the islands to Britian, sold Laucala Island to European settlers.
In 1972, Malcolm Forbes bought the island and upgraded the accommodation for the island's residents, including better access to schooling, and also enhanced the island's economy via tourism, cattle, and farming. He died and was buried on Laucala in 1990.
In 2003, the Red Bull drink billionaire Dietrich Mateschitz, purchased the island and has since constructed a 7-star resort with all the trimmings.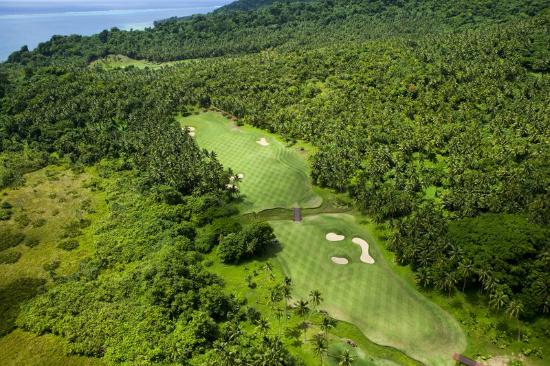 Hole 3 on it's championship golf course - photo courtesy of TripAdvisor


Island

Laucala Island lies off the east coast of Taveuni, around 200km north east of Suva. The 12 km² island is just 500m east of Qamea Island with Matagi Island also nearby.
The island is home to a luxury 25-bure resort (luxury is an understatement), villages, schools, and hundred's of acres of farmland some of which include:
fruits
vegetables
coconuts

coffee
cocoa
teas
vanilla
pepper
bees

whilst also farming:
goats
cows
pigs
deers
poultry
and more, while also having a flower nursery.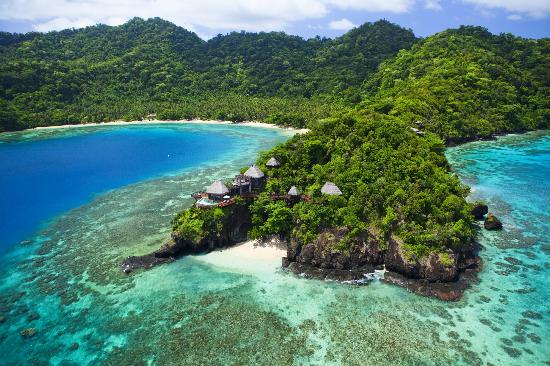 Sprawling hilltop residence over private beach - photo courtesy of TripAdvisor


Resort

You will not find a more opulent resort in all of Fiji. It's where the rich and famous come to getaway. So exclusive is Laucala resort, you are unlikely to run into other guests. Each of the 25 residences are spaced apart in unique locations with various themes giving privacy and peace. Private golf buggy per residence, pool per residence, and full bar and health bar per bedroom and lounge! For the early birds, you can do stretches at sunrise on your own yoga deck. Basic rates start at a mere US$3,800 per night.

Amenities include 5 restaurants (in case you wanted to taste something different from your private cook), bars, lounge, spa, and a kids club. Yes, unlike almost all other 5-star (in this case 7-star) resorts, children are allowed. Maybe because the bures are so private and spaced out that they can't be heard.

Obviously, the theme is relaxation, but if you decide to venture away from the opulence of your palace, then here are a few activities to break your routine:
snorkelling
diving
sailing
wind/kite-surfing
boating
game fishing
horseback riding
cultural village tour
tennis

18-hole championship golf course

Visit Laucala's site for more information.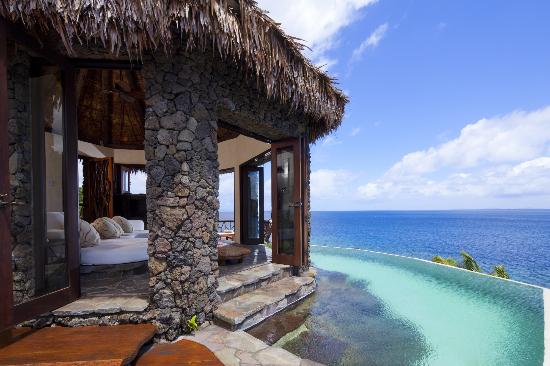 Stunning panoramic views - photo courtesy of TripAdvisor


Laucala Google Map

It is recommended that you click on 'View Larger Map', here or directly below the map, for a better full-screen viewing experience.

View Larger Map

Return from Laucala Resort Fiji page to Most Popular Fiji Island page
Return to Amazing-Fiji-Vacations.com homepage

About Me | Contact Me | Search this Site | Privacy Policy 

By Paul Atkin, Copyright © 2012-2014 Amazing-Fiji-Vacations.Com