Home

›
Getting to Fiji
›
Nadi International Airport
Home

›
Nadi
›
Nadi International Airport
Nadi International Airport

Where do I arrive in Fiji? Explore all about Nadi International Airport here. It is your point of entry, and departure, on your relaxing vacation/holiday.
The Nadi airport contents are:


One time I accidentally passed around the luggage checking station without anyone noticing... it was Fiji time!
Relaxation is the theme in Fiji. There's no hurry... and so shouldn't you.

The International Hub

Nadi Airport handles 96% of international passengers to Fiji with 30 international flights daily. Nausori Airport in Fiji (SUV) near the capital Suva, is used primarily for domestic flights with the occasional flight to neighboring South Pacific nations. Nadi airport serves about 1.2 million people per year, and is the main hub of Air Pacific the biggest of Fiji Airlines'.

Nadi

The airport is 9km north of the township Nadi. 6km to the west is Denarau Island where you'll find upmarket Nadi resorts and hotels and is actually where we spend most of our time whilst in Fiji.
Visit our Nadi Fiji page for information about Nadi, what to do, and Nadi's climate, and also the famed Denarau island.

Getting to Fiji

For information getting to Fiji, visit Flights to Fiji.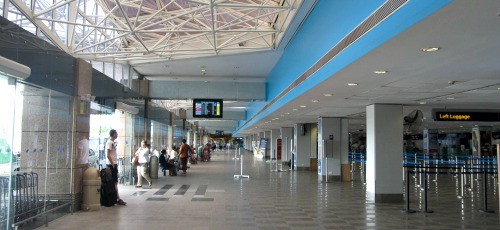 Inside Nadi Airport


Entering Fiji

You will be greeted with big smiles, friendly bula's, and of course the mandatory warm Fiji weather. A band might come around singing island music and welcome you by putting a flower necklace around your neck. The airport is relatively small so you'll be off to your designated transport in no time. Everyone is relaxed including security!

Visit our one-stop-shop for tourist information at our Fiji tourism information page which has such things as:

Fiji visa information 
budgeting information
when to go

what to bring including what you shouldn't leave home without

and


and also what you SHOULD leave behind! ;-)
what you need if you're tying the knot in Fiji

A little planning will ensure your Fiji vacation/holiday goes off without a hitch!


What's at Nadi International Airport?

Want to know what's at Nadi airport? It's a common question. Here are the more significant amenities at the airport:
internet access is provided by Tomizone via 5 internet kiosks and with hotspots throughout the airport. Time or data can be purchased with rates of 30 minutes or 30MB - FJD5.00 / 1 hour or 60MB - FJD9.00. Visit our Fiji internet access section for information on internet access throughout Fiji.
ATM machine - the sole ATM machine (ANZ Fiji) is located on the left straight after your bags get scanned.
ANZ bank - for exchanging money
Western Union - for money transfers

medical centre - located in the AFL operations centre adjacent to the airport passenger terminal.
duty free shopping
car hire - visit our car hire Fiji section for general information and our transfer from Nadi airport for options at the airport.
luggage storage facilities - leave your bags here while going out to explore!
eateries
cafes
bar
travel and tour agencies

information desk


Transfers from Nadi airport

Need to know how to get to your resort? Find out here on our Transfer from Nadi airport section.



Return from Nadi Airport to Flights to Fiji page
Return to Amazing-Fiji-Vacations.Com homepage

About Me | Contact Me | Search this Site | Privacy Policy 

By Paul Atkin, Copyright © 2012-2014 Amazing-Fiji-Vacations.Com