Home

›
Getting Around
›
Fiji Airlines
Fiji Airlines

Want to know about Fiji Airlines? Find out more about the airlines of Fiji ranging from charter services to it's flag carrier.

The Airlines in Fiji contents: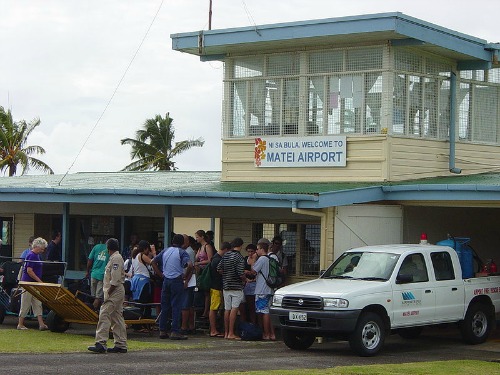 Matei Airport on Taveuni


Introduction

Fiji Airways is the international carrier of Fiji. Pacific Sun (owned by Fiji Airways) and Northern Air are it's domestic carriers.

Airports in Fiji

There are two international airports. Nadi International Airport and Nausori International Airport in Fiji. However Nadi International Airport is the tourist point of entry for your Fiji vacation.
There are a host domestic airports in Fiji giving access throughout the islands. Find out more with this List of Airports in Fiji.

Air Fiji

The now defunct Air Fiji was another Fiji airlines player and was based in Nausori, Fiji. It operated inter-island services to destinations within the Fiji Islands. However, it ceased operations May 1st, 2009.

Fiji Airways

Fiji Airways is the flag carrier of Fiji. It reverted back to it's name in 2012 from Air Pacific. Pacific Sun is it's domestic carrier.

International
Fiji Airways has international services around the Pacific, Australia, New Zealand, North America and Hong Kong. It is based at Nadi International Airport in Nadi.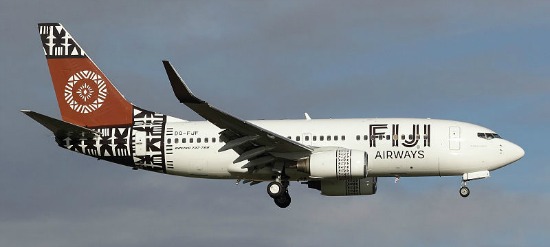 The revamped Fiji Airways

It's destinations are:
Asia
Hong Kong Hong Kong International Airport
North America
United States Honolulu - Honolulu International AirportLos Angeles - Los Angeles International Airport
Oceania
Australia Brisbane - Brisbane AirportMelbourne - Melbourne AirportSydney - Sydney Airport
Fiji Nadi - Nadi International Airport (Hub)
Suva - Nausori International Airport
Kiribati Kiritimati - Cassidy International AirportTarawa - Bonriki International Airport
New Zealand Auckland - Auckland AirportChristchurch - Christchurch International Airport
Samoa Apia - Faleolo International Airport
Solomon Islands Honiara - Honiara International Airport
Tonga Nukuʻalofa - Fuaʻamotu International Airport
Vanuatu Port Vila - Bauerfield International Airport
Domestic (Pacific Sun)

It operates scheduled services to twelve destinations within the Fiji Islands, as well as regionally around the Pacific islands.
They are a wholly owned subsidiary of Fiji's International carrier Fiji Airways. It's also based out of Nadi.
A Pacific Sun airplane

It's destinations are:

Fiji
Cicia - Cicia Airport
Kadavu -

Vunisea Airport

Labasa - Labasa Airport
Lakeba - Lakeba Airport
Nadi - Nadi International Airport (Main hub)
Rotuma - Rotuma Airport
Savusavu - Savusavu Airport
Suva - Nausori International Airport (Secondary hub)
Taveuni - Matei Airport
Vanuabalavu - Vanuabalavu Airport
Oceania
Tonga
Nuku

ʻ

alofa - Fua

ʻ

amotu International Airport
Tuvalu
Funafuti - Funafuti International Airport
A Pacific Sun plane landing on Malololailai, Fiji in 1986 (then known as Sunflower Airlines)
For both Fiji Airways and Pacific Sun information, visit it's website at http://www.fijiairways.com/


Northern Air

Northern Air operates out of Nausori Airport near Suva. It operates in Eastern Fiji and has scheduled flights to the following places:
Labasa (Vanua Levu)
Savusavu (Vanua Levu)
Kadavu
Koro Island

Levuka

Gau Island


Moala Island
Northern Air's website is http://www.northernair.com.fj/.


Charter Services

Charter services are commonly used for maximising your 'Fiji island time' for getting to your Fiji resort.
The following are charter services operating in Fiji:

Island Hoppers

Pacific Island Air

Turtle Airways
Northern Air

Island Hoppers offers scenic joy rides and island resort transfers to most of the islands. They depart from Nadi and Denarau.


Pacific Island Air offers a wide range of services. Helicopters, seaplanes and fixed-wing aircrafts are available offering resort transfers, island transfers, joy flights, charters, and adventure packages.
Turtle Airways has seaplanes that can drop you off right at your resort's front door. That includes resorts in the Mamanucas, Yasawas, Viti Levu as well as some other islands. They leave from New Town or Denarau Island, near Nadi.

Northern Air also has charter flights to go along with it's domestic operations.



Return from Fiji Airlines page to Transport in Fiji page
Return to Amazing-Fiji-Vacations homepage
About Me | Contact Me | Search this Site | Privacy Policy 

By Paul Atkin, Copyright © 2012-2014 Amazing-Fiji-Vacations.Com