Home

›

Nausori & Rewa Delta
›
Nausori Airport
Home

›

List of Airports in Fiji
›
Nausori Airport
Nausori Airport in Fiji

Where is Nausori airport? Find out about the 'other' international airport in Fiji in this section. A must read if you're flying into Suva.
Nausori airport is the domestic hub of Fiji servicing Suva and the islands.

The Nausori International Airport contents:


Location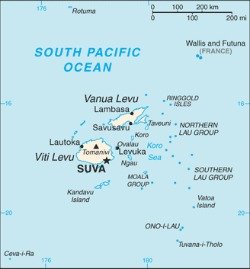 Nausori airport is located on the eastern side of the main island, Viti Levu, while Nadi International Airport is situated on the west coast (visit our Map of Fiji information page for our collection of maps). Nausori is a town not to be confused with Nausori highlands, which is situated on the western side of Viti Levu. Nausori airport is 3km southeast of Nausori and 22km from the capital, Suva.
From Nausori through to Suva and just beyond, is the bulging population area called the Nausori-Suva Corridor. It's the most populous area in Fiji containing a third of
Fiji's total population.

Getting There

The Kings Road from Suva to Nausori is the busiest section of road throughout Fiji. It takes about 30 minutes and a local bus ticket will cost you about FJ$2. The new four lane Rewa bridge connecting Suva to Nausori over the Rewa river was completed in 2006.


Airport

Nausori International Airport (IATA: SUV, ICAO: NFNA) is also known as Luvuluvu. Nausori airport in Fiji is owned by Airports Fiji Limited, a government owned company.

Telephone: (679) 672 5777 ext:6158/6113
Website: http://www.airportsfiji.com/nausori_airport.php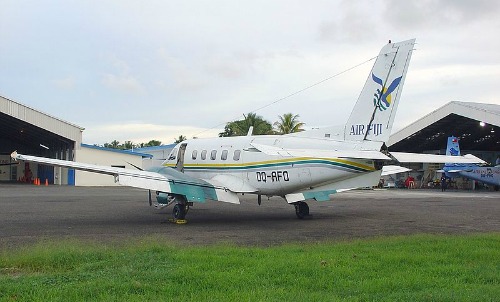 Air Fiji Embraer EMB-110P1 Bandeirante at Nausori Airport

International Destinations

Airlines

Fiji Airways (formerly Air Pacific)


Airports

Auckland, New Zealand
Port Vila, Vanuatu
Nuku'alofa, Tonga
Funafuti, Tuvalu


Air Vanuatu


Port Vila, Vanuatu

Visit our Flights to Fiji section for more information about coming to Fiji.


Domestic Destinations

Airlines

Fiji Airways/Pacific Sun


Airports

Nadi International Airport, Viti Levu
Labasa, Vanua Levu
Savusavu, Vanua Levu
Matei, Taveuni
Vunisea, Kadavu
Levuka, Ovalau Island, Lomaiviti Province
Koro Island, Lomaiviti Province
Ngau Island, Lomaiviti Province
Cicia Island, Lau Province
Lakeba Island, Lau Province
Vanuabalavu Island, Lau Province
Maola Island, Lau Province
Rotuma

Daily domestic transfers to your connecting international flight in Nadi takes less than 30 minutes. For information regarding airlines in Fiji, visit Fiji Airlines section which has information about Air Pacific, Fiji's international carrier, and Pacific Sun, Fiji's primary domestic carrier.


Return from Nausori Airport in Fiji page to Nausori & Rewa Delta page
Return to List of Airports in Fiji page
Return to Amazing-Fiji-Vacations.com homepage

About Me | Contact Me | Search this Site | Privacy Policy 

By Paul Atkin, Copyright © 2012-2014 Amazing-Fiji-Vacations.Com