Home

›
Fiji Diving
›
Fiji Snorkeling
Fiji Snorkeling

Looking to do some Fiji snorkeling on your getaway? Discover all you need to know on this must-do activity while staying in gorgeous Fiji.

The snorkeling contents: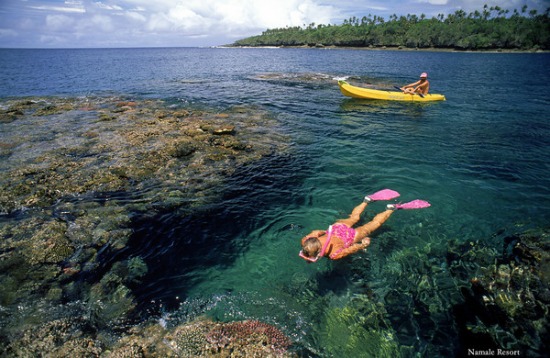 Snorkeling at Namale Fiji Resort & Spa

Snorkeling... a must do!

What makes snorkelling a must-do activity in Fiji?
It's quite easy to do (although water seems to always get into my mask!), whilst being relaxing at the same time. And even better, it's generally complimentary with your resort.
The diving industry is well established and is very accessible no matter where you are staying on your Fiji vacation. Whilst diving will give you the best access to these amazing underwater sights, snorkeling in Fiji is comparatively inexpensive and an easier option.
Often in Fiji, some of the best underwater scenery is close to the coasts and just below the surface. And with snorkeling readily accessible on all the Fiji islands at virtually every resort, it has to be done!

Snorkeling with large animals
While Fiji has picturesque hard corals and spectacular soft corals, when snorkeling these spots be on the lookout for some reef sharks making their way around the reefs.
Fancy snorkeling with manta rays? It's a thrilling experience and Buliya island is the place to go for that.
Check out this Fiji snorkeling video by Tui Tai Expedition Cruises

Off Sawa-i-Lau island in the Yasawa Group is where you can encounter giant manta rays. To see these large creatures up close will definitely make your snorkeling experience.
Off Wayasewa Island, also in the Yasawa's, is a little renown spot for snorkeling with sharks. They are mostly white-tipped reef sharks, and the local divers are able to grab the tails of these harmless creatures. even though it might scare the snorkeling pants off you!

Where to go
You really need to get off the main island for some quality snorkelling, that's the case for diving too. 
The Mamanuca islands and the Yasawa Islands are two places where you'd find great snorkelling areas. And if you can find places like Malolo and Matamanoa to snorkel straight off the beach, then you're in heaven!
A few handy snorkelling areas:
Viti Levu - Natadola Beach, Nananu-i-Ra, Beqa Lagoon
Vanua Levu - Maravu point
Yasawa Group - off Sawa-i-island (although there are many)
Mamanuca Group - Malolo Barrier Reef
Taveuni - Vuna Reef
Kadavu - Great Astrolabe Reef
Lomaiviti Group - Caqalai and Leleuvia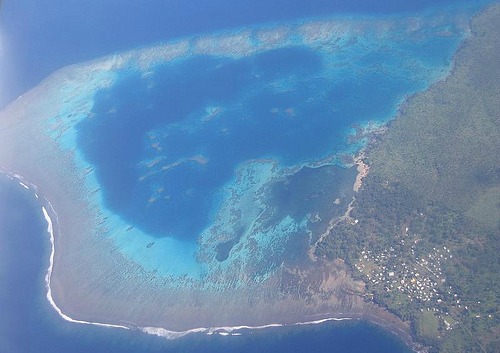 Aerial view of Vuna Reef, Taveuni


Return from Fiji Snorkeling page to Amazing-Fiji-Vacations homepage
About Me | Contact Me | Search this Site | Privacy Policy 

By Paul Atkin, Copyright © 2012-2014 Amazing-Fiji-Vacations.Com