Home

›
Tourist Information
›
Important Travel Fiji Information
Important Travel
Fiji Information

Need to find the important information before arriving in Fiji? Discover from essential  health information to the nation's customs.
Visa and Entry Requirements

This is covered on our What to bring on Vacations to Fiji page.

Health & Safety

Fiji is free from Malaria, Yellow Fever, and other major tropical diseases. However, Dengue, does exist.
Hospitals are on major islands. Hotels and resorts have a doctor on call and have a nurse. Health facilities are good in Fiji, although might not compare to the standard accustomed to in well developed countries.

It's generally pretty safe in Fiji. Crime does happen though, notably around Suva and at big rallies or gatherings. Pickpocketing does happen occasionally and women are not encouraged to be alone at night in rural areas.
Currency
The Fiji currency is the Fijian dollar (FJ$). It is approximately US$1/AU$1 to FJ$2. Of course, this fluctuates often, so check before you embark on your travels. ANZ, Westpac, and Colonial banks are available for you to withdraw money. Visit our Fiji Money & Banks for information regarding managing your money whilst in Fiji (includes a currency converter).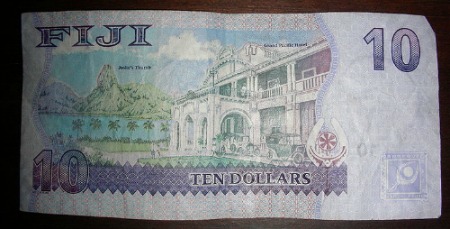 Fijian 10 dollar note

Weather & Climate

This is extensively covered starting on our hub Fiji Weather page including forecasts for your Fiji holiday/vacation dates.

Culture & Customs

Fijians are some of the most friendliest people you'll encounter. They will treat you very respectfully, as long as you show respect to them and their land. If in doubt, ask at your resort. For more read up at Culture of Fiji.

Tipping is not a custom in Fiji.
Bartering is also not a custom in Fiji, and is considered rude.
If you are travelling to a village, ask you guide or resort first on the protocols. There are various rules of conduct including the partaking of the kava ceremony.
Find out some of the best Fiji Cultural Experiences you can have in Fiji.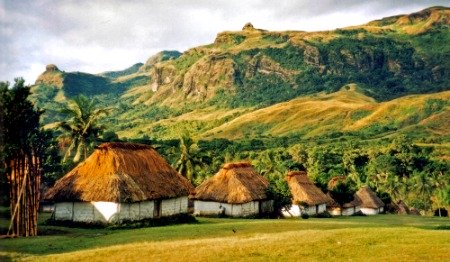 Bures in Navala Village in the highlands of Viti Levu, Fiji

Language & Communications

There are 3 main languages of Fiji: Fijian, Hindi, and English. English is commonly used especially in the main areas. They will converse with you as they are very friendly. They appreciate you taking an interest in their language and culture, so start with:
Hello

- Bula (this is the general greeting throughout Fiji)
Thank you - Vinaka (pronounced Vee-na-ka)
Check out our 10 Words to Know for your Vacation Fiji page!
Food & Drink

Fiji food in generally fresh and appetising. There are plenty of restaurants around which include Fijian, Japanese, Chinese, Indian and Australian food. Your chosen resort's restaurant(s) more than likely offers fresh food that is locally grown or caught.
Kava is the national drink. It stems from the Kava plant found around the Pacific. Upon drinking it, it can make your mouth numb, although the Fiji kava available to tourists is thought to be not as potent.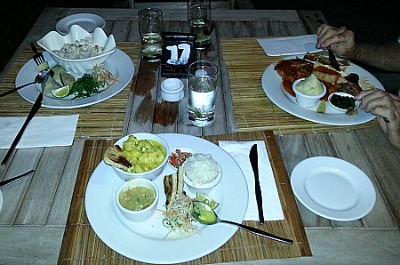 Meals cooked to perfection: raw fish dish, Indian curry dish, and steak at Nadina's restaurant, Denarau Island.

Getting Around

Travel Fiji information is covered in our Transport in Fiji page.



Return from Important Travel Fiji Information page to hub All About Fiji page
About Me | Contact Me | Search this Site | Privacy Policy 

By Paul Atkin, Copyright © 2012-2014 Amazing-Fiji-Vacations.Com