Home

›
All About Fiji
›
Culture of Fiji
Culture of Fiji

Want to discover the culture of Fiji? Explore the marvel of it's uniquely friendly people, it's laid-back nature, and it's Polynesian traditions. This cultural section will delve into such facets as the Fijian arts, crafts and traditions.
This page's contents:

Other aspects of the culture of Fiji such as people, language, history, geography, economy, cruisine, religion, sports plus more are covered in our comprehensive information hub All About Fiji section.

Arts
Visit our Music of Fiji section for the lowdown on Fijian music.
Meke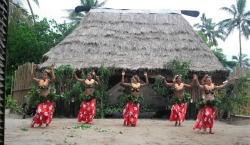 A meke is a traditional dance which enacts
a myth or story. You most likely encounter a performance involving a number of meke at your resort on one of the nights. Some are generations old which formed part of Fiji's oral history. Others might be more modern, written by a poet to tell a story about an event. Each area of Fiji has their own
number of meke. One's to look out for:
seasea - which is a women's fan

dancemeke wesi - a men's spear

They can be quite a show, and upon viewing a meke wesi one time, it scared the living daylights out of a female onlooker when she briefly had her back turned.

Cibi
The Cibi (pronounced Thimbi) is a meke which originated from the Bau province. It's a war dance which was predominantly performed before or after battle. Now Fiji Rugby teams perform it before their matches.


The Cibi performed in their match against South Africa in the Rugby World Cup 2011.


Crafts
Masi (bark cloth)

Masi is the making of Tapa cloth. It comes from the bark of the mulberry tree and has traditional motifs and patterns woven into it. You will often find them on walls at your resort. They are made by the women.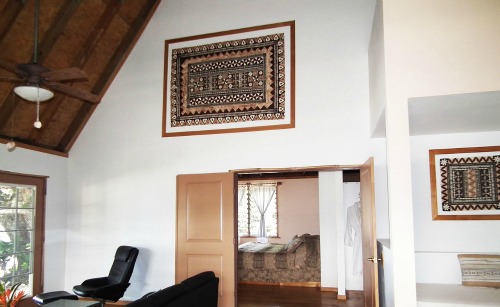 Masi hanging on the walls in a resort bure

Woodcrafting
A men's craft, it's still used today for everyday utensils such as tanoa (drinking bowl) and bili (kava drinking cup). It's also used to supply tourists with artifacts such as ancient war clubs, spears, and cannibal forks. You can find these at stores especially in Suva and Nadi for purchase, and on display at the Fiji Museum.

Mat & Basket Weaving
Made from the leaves of the pandanus tree it's used to weave such things as mats, baskets, and sleeping mats. There are mats for different occasions and are also used as gifts. They are made by the women.


Architecture
Traditional
The traditional bure (traditional thatched hut) is a dying breed with the modern day bure using industrialised materials for less maintenance. The term bure is very liberally used today to describe anything from a run-down beach hut with a goat eating it, to a modern luxury resort room with air-con and flat screen TV's.

One of the only remaining traditional bure villages is the Navala village in the Viti Levu highlands which is open for village visits.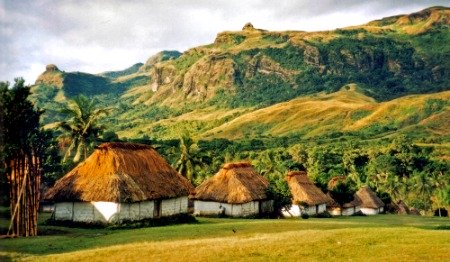 Navala Village in the Viti Levu hinterland

Colonial
These are evident today in Levuka, the old capital of Fiji which has been nominated for World Heritage Listing, and Suva with magnificent buildings including Government House.

Modern
Fiji's modern architecture combines modern technology with traditional aesthetics. You can see the culture of Fiji within the architecture through it's construction and it's wall hangings.


Return from Culture of Fiji page to the hub All About Fiji information page
Return to Amazing-Fiji-Vacations.com homepage

About Me | Contact Me | Search this Site | Privacy Policy 

By Paul Atkin, Copyright © 2012-2014 Amazing-Fiji-Vacations.Com