Home

›
All About Fiji
›
10 Fijian Words to Know
10 Fijian Words to know
for your Vacation Fiji

Are you set for your vacation Fiji? Find out 10 Fijian terms to know which will come in handy when experiencing Fiji's exotic culture. You don't need to learn the whole language, but here's a few words that you'll come across over the course of your Fiji holiday.

1. Bure - This is probably the first Fijian term will come across, I dare say, you already have. It can be defined as 'a traditional thatched dwelling'. Or as you will soon find out, it pretty much is whatever the resort decides it to be!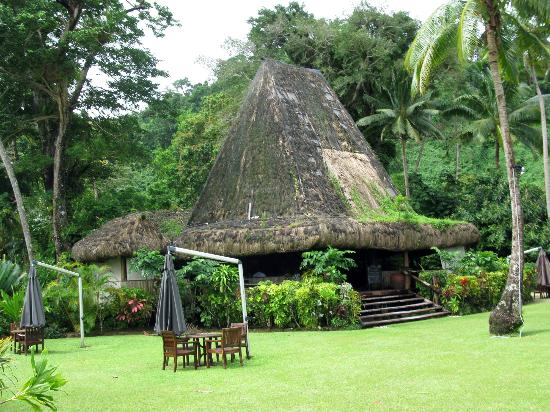 2. Bula - From the first Indigenous Fijian you'll meet, this is the first word you'll hear. It means 'life' however, it's used as 'hello', 'g'day', 'welcome', and 'cheers'. You'll be saying this a lot.

3. Vinaka - means 'thank you'. This will likely be the 2nd word you'll use in Fiji. The service is so friendly, you can't help but to thank them at each turn.

4. Kava - this is the national drink and you won't leave Fiji without trying it. It's made from the roots of a Polynesian pepper shrub, looks like muddy water, tastes odd, and is known to be mildly narcotic.

5. Meke - is a 'dance performance enacting stories and legends'. Your resort will likely put on dance performances usually at dinner time near your restaurant.

6. Lovo - is termed as a 'Fijian feast cooked in a pit oven'. A common custom throughout the South Pacific. It's natural and scrumptious so don't miss out. Often available on Fiji tours.

7. Masi - is 'bark cloth with designs' often in black and brown. Sometimes you'll see these as decoration inside your resort bure.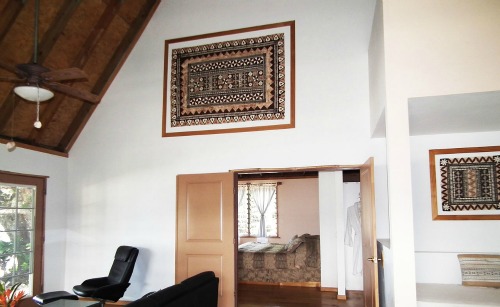 8. Sulu - is a wrapped cloth worn as a skirt to below the knees. You'll see these everywhere in Fiji worn by men and women alike, and is quite stylish in the fashion stakes. Try it out around your resort. If you're a man, you have a sense of being 'free and relaxed'.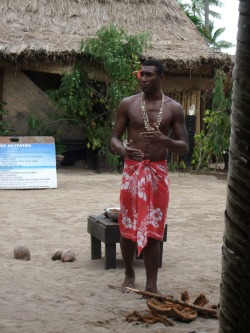 9. Tui - This is become more relevant if
you decide, and it's recommended, to go
on a village tour. There are certain
protocols, and this term means 'chief' or
'king'.  He's the most important person in
the village.

10. Viti - this is what the indigenous
Fijians called 'Fiji' before the arrival of the
Europeans. It was the mispronunciation
that gives it's name today. Also, as you
have probably noticed, it's part of the
name of the main island 'Viti Levu'.
(On our vacation Fiji, this picture was
taken on a day cruise where we ate a
'lovo', drank 'kava' and this man, infront
of a 'bure' wearing a 'sulu', was involved
with others doing several 'meke's'.)


Return from 10 Fijian Words to know for your Vacation Fiji page to All About Fiji page
Return to Amazing-Fiji-Vacations.Com homepage

About Me | Contact Me | Search this Site | Privacy Policy 

By Paul Atkin, Copyright © 2012-2014 Amazing-Fiji-Vacations.Com