Where to explore
Fiji Car Hire

Where to explore with your Fiji car hire? Explore around Fiji and discover wonders from stunning beaches to old fortresses to the capital of Fiji!
The Where to Explore Fiji Car Hire contents: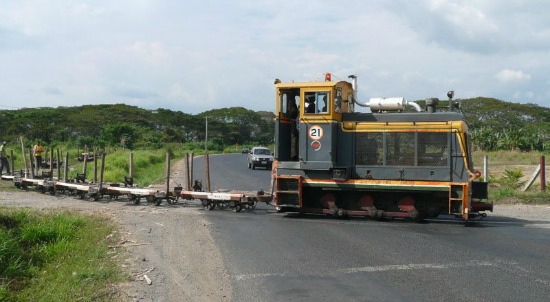 Viti Levu (main island)

The main island is the easiest option to explore by car.
There's a road that circumnavigates Viti Levu. From Suva clockwise to Lautoka (just past Nadi), this section of road is called Queens Road and is 221 kilometres long. From Suva anti-clockwise to Lautoka is called Kings Road, is 265 kilometres long, with the portion from Korovou towards Rakiraki being unsealed.
Roads are rougher as you go inland. In general, you should drive ten times (maybe just five) more carefully than back in your home country. Things to look out for:
pot holes, roads in general are probably in poorer condition than your used to
people walking along the sides of the road especially near villages

animals including horses and cows
driver's here seem to more 'all over the place' doing things like overtaking around blind corners etc
There are car hire/rental companies at Nadi International Airport, Denarau Island, Suva, Nausori Airport, and the Coral Coast. All resorts worth their kava can organise a rental vehicle for you.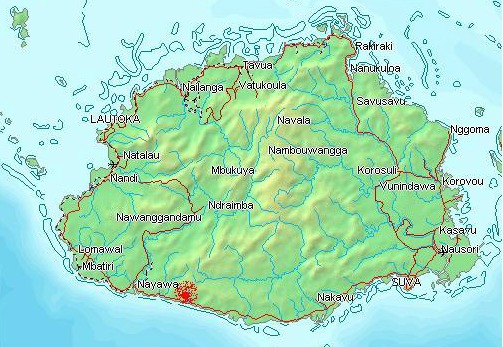 The main island of Viti Levu

Cultural Respect

As is anywhere in Fiji, you cannot go wandering anywhere. Land are owned by communities, and entering on other people's land without permission can be considered disrespectful. If in doubt, ask first.


Vanua Levu

If you like a bit of off-road adventure, then Vanua Levu should do the trick. The two major towns of Labasa and Savusavu is where you can hire cars, and also find the only sealed road. Other than that, it's unsealed and 4WD territory. There are unsealed roads for most of the coast.

Vanua Levu is considerably more laid-back than the main island, so you will need to plan ahead. Be wary of rough roads, wandering animals, scarce petrol (gas) stations and food outlets, and driving is not advisable during the night.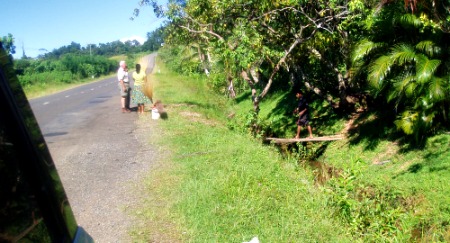 Us purchasing a traditional broom roadside


Taveuni

There's a little bit of sealed road from Matei, where the airport is, down the west side to Wairiki which is about half way down. There are unsealed roads around most of the island except for the south east coast. There are 4WD tracks inland as well.
There's really no need to rent a car on Taveuni, and you are probably better off hiring a taxi, and there's a good chance the taxi driver can double as a guide!


Other Islands

There are no car hire options on other islands. If you are doing something adventurous like taking your Fiji car hire on ferries to explore other islands, check with your Fiji car rental agency first.


Return from Where to Explore Fiji Car Hire page to hub Car Hire Fiji page
Return to Amazing-Fiji-Vacations.com homepage

About Me | Contact Me | Search this Site | Privacy Policy 

By Paul Atkin, Copyright © 2012-2014 Amazing-Fiji-Vacations.Com