Home

›
Cruise Fiji
›
Fiji Sailing
Fiji Sailing

Fancy a Fiji sailing adventure? Find out your options here as Fiji has perfect islands to go along with beautiful weather and exquisite diving.
The Sailing in Fiji Contents: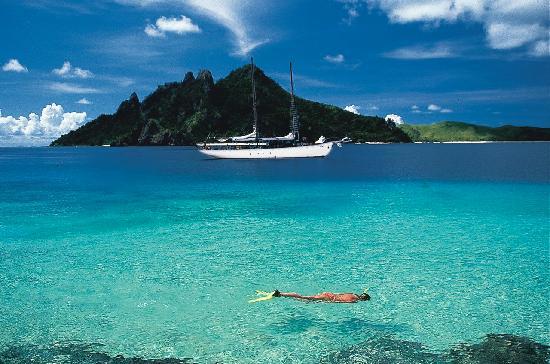 photo courtesy of TripAdvisor


About
This section is for people who are after sailing adventures or who wish to charter a yacht. Usually it compliments your Fiji vacation or holiday.
It doesn't have information regarding the sailing of a yacht that you own.


What to expect

Firstly, you can expect stunning weather with perfect beaches on secluded islands. You resort is probably there as well!
Of course, sailing itineraries vary but some of the usual things included in the cost are:
transfers from/to your resort

food (often a lovo)
drinks
snorkeling
island visits

What to bring

It could vary especially from day to overnight trips. In any case, our Top 10 Fiji Cruise Tips should do the trick.

Transfers
Transfers are included to/from your resort in the Nadi area. Even if you are staying on the Coral Coast.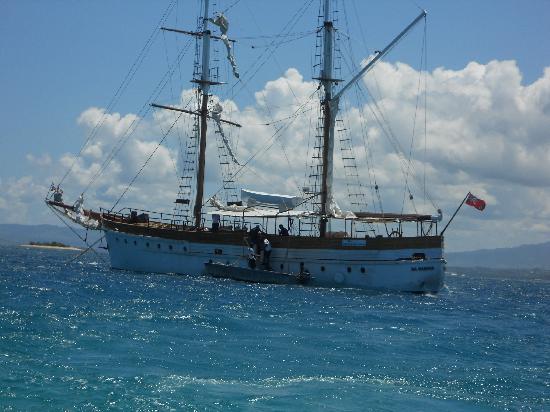 photo courtesy of TripAdvisor


Where

Most of your sailing options, be it organised or chartered, is around the Mamanucas. The Nadi area and the Mamanucas are two of Fiji's most resort-rich areas, and they are right next to each other. So it's convenient that the Mamanuca islands have postcard perfect islands for sailing adventures to thrive.
Most sailing adventures and chartered vessels operate out of Denarau Marina on Denarau Island near Nadi. The other option is from Musket Cove Marina of Malolo lailai (Plantation Island).

Mamanucas
South Sea Cruises - has a full-day sailing adventure
Sailing Adventures Fiji - has a day and 2/3-day sailing adventures. Charter also available
Coral Cats - offers a day sailing adventure to Malolo lailai. Coral Cats can be reached at email: sailfiji@connect.com.fji and ph: (679) 620 8092
The 100-foot Schooner 'Whales Tale' has a day sailing adventure to an uninhabited island
Take a Break Cruises - operates out of Musket Cove Marina on Malolo lailai, it has day/half-day/sunset sailing options

Captain Cook Cruises - has sailing and charter boat options
Yasawas
Captain Cook Cruises - has sailing and charter boat options
There are day sailing adventures from Musket Cove Marina for those staying at one of the four resorts on Malolo Lailai in the Mamanucas.

Vanua Levu

Sea Hawk Yacht Charters - is your sole charter option in Vanua Levu. The 16m beauty can accommodate up to 6 and comes with a captain, cook, and crew.

Return from Fiji Sailing to the hub Cruise Fiji page
Return to Amazing-Fiji-Vacations.com homepage

About Me | Contact Me | Search this Site | Privacy Policy 

By Paul Atkin, Copyright © 2012-2014 Amazing-Fiji-Vacations.Com