Home

›
Fiji Real Estate
›
Where to buy?
Fiji Property
Where to buy?

Are you wondering where's the best place to buy your Fiji property? Explore your options here from luxury convenient living to rural natural getaways.
The Where to Buy Fiji Property contents: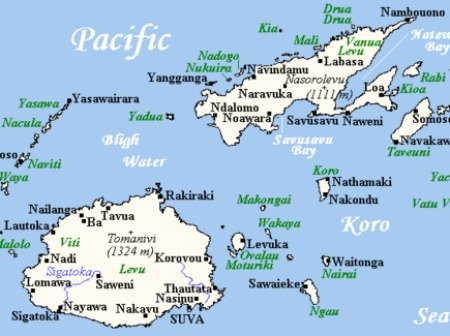 Fiji Land

Stretching back to the colonial era in Fiji's history, most of the land in Fiji, 83% in fact, is owned by indigenous communities and can never be sold. However, there is a portion of freehold land, 8.3% of the total land, available for purchase.
And this is the focus of the section, freehold land. Because, you can own it forever!

Land Lease

Most resorts in Fiji lease their lands from local communities and generates income for the villages. There are leasing opportunities available which, over time, will come to light on Amazing Fiji Vacations dot com.



Freehold Areas

Fiji freehold land is located in certain locations around Fiji. And various sections offers different positions and lifestyles. Most freehold land is located in the north of Fiji on Vanua Levu and Taveuni. This came about from the colonial period when the British allocated land to 'Europeans' to farm and help colonise Fiji. There is also pockets along the southern coast of the main island, Viti Levu.

Size and Price

Typical plots are beachfront to ocean views and are between half an acre and 1 acre. The price starts from around US$20,000-85,000 depending on the location.
Benefits
All areas offer all year round tropical weather, friendly Fijian locals, natural food, and warm water for water activities.
What varies is the quality of the beaches, convenience (international airport, shopping, health care, quality schoolling), and of course price.
Here are the areas, refer to the map at the top.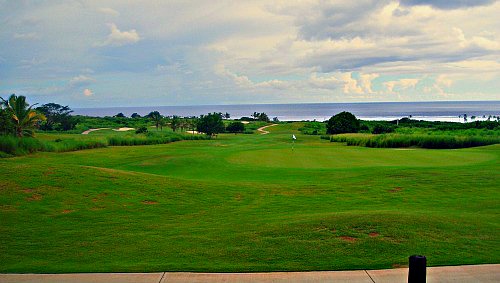 Golfing on the Coral Coast, or in my case, having a beer in the clubhouse


South Coast of Viti Levu

Viti Levu, being the main island, is convenient with proximity to Nadi International Airport. A land transfer of up to 2 hours, will get you to your front door. The properties tend to be luxurious in nature and also close to shopping, supermarkets, and plenty of land activities. There's a private hospital in Suva.
The tourist hub Coral Coast is the stretch of coast between Sigatoka and Suva.

Maui Bay Estates - Located on the Coral Coast, it's convenient with restaurants, nightlife, and half way between Nadi and Suva. Both 'cities' are just an hour to 90-minute trip. It has beachfront lots and ocean view lots. Lots start at ½-acre and US$85,000.
Waidroka Estates - Also located on the Coral Coast with similar benefits. 2 hours from Nadi and 40 minutes from Suva. Lots start at ½-acre and US$30,000.
Pacific Harbour - Also around 2 hours from Nadi and 45 minutes from Suva. This area is known as the adventure capital of Fiji with no shortage of fun activities.


Vanua Levu

Vanua Levu has a sizable amount of freehold land in the form of old coconut plantations. Whole coconut plantations are up for sale, although they aren't included here yet. A domestic air transfer is needed from Nadi International Airport.

Coconut Estates - Located about 25 kilometres from the charming seaside town of Savusavu, this is a good choice to be in a far away peaceful setting. Lots start at ¼-acre and US$26,500.

Taveuni Island

Taveuni is Fiji's 3rd largest island and is rich in flora and fauna. The 'Garden Island' is unspoilt and has exquisite diving and snorkelling. It requires a domestic air transfer from Nadi Airport.
Taveuni Estates - Lots start at ½-acre and US$55,000. You have access to the estates clubhouse which has a swimming pool, tennis court, 9-hole golf, lawn bowls, and croquet.


Koro Island

Koro Island is the 6th largest island and located in the 'middle' of Fiji. This is a great rural natural option as Koro is undeveloped with people living an eco lifestyle. Here your Fiji property lot starts at ¼-acre at are cheaper than mainland options starting at US$20,000.


A Place to Start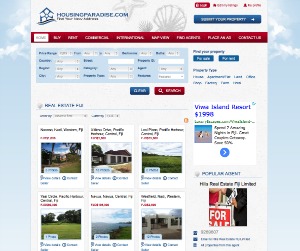 Apart from browsing the above sites, if you'd like a place to begin your Fiji property search, non-freehold as well, housingparadise.com is a good start.
Housingparadise.com uses registered real estate agents from around the South Pacific, who post their properties on the site in a 'one stop shop' format  (similar to amazing-fiji-vacations.com as a one stop shop for Fiji getaways).
I find the site user-friendly and you can do searches using criteria such as: price, location, property type, and the number
of bedrooms/bathrooms. It has photos, a map view, currency conversions, a mortgage calculator while also enabling you to contact the real estate agent directly with your enquiry.

Return from Where to Buy Fiji Property page to Amazing-Fiji-Vacations.com homepage
About Me | Contact Me | Search this Site | Privacy Policy 

By Paul Atkin, Copyright © 2012-2014 Amazing-Fiji-Vacations.Com