Home

›
Popular Islands
›
Koro Island
Koro Island

Want to know more about Koro Fiji? Discover unspoilt Koro Island the 6th biggest island in Fiji and a chance to stay and even own your slice of paradise.

The Koro Fiji contents:

Koro Island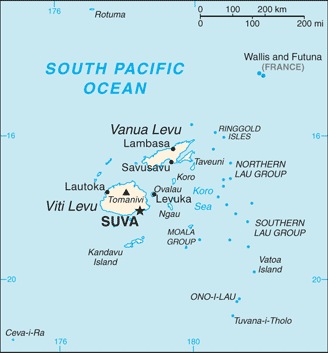 Koro Island has an area of 109 km² and is shaped like a shark's tooth. It is a volcanic island that forms part of the Lomaiviti group of islands. As seen in the map, it's located in the middle of Fiji with the Koro Sea, which is fantastic for diving, to the right.
As of 2013, the Fijian population on the island is 4,500 living in 14 villages. Koro is one of the most fertile islands in Fiji possessing large plantations and a vibrant tropical forest. Bird watches will love Koro. Copra, Taro, and forestry are the major income earners for the island.
Koro has an airstrip on the east coast. Schools, medical stations, a post office,
and a Western Union are present with 3G due in 2014.

Getting There

Air - Northern Air has one scheduled flight per week from Suva, usually on a Saturday. Chartered flights can be arranged at your convenience.

Sea - Consort Shipping operates a roll-on roll-off ferry that goes to Koro twice a week on it's way to Savusavu from Suva.
Northern Air information can be found on our Fiji Airlines section, whilst other transport information is found on our Transport in Fiji section.


Accommodation and Owning Land

The north western tip of the island exists all accommodation and freehold land in proximity to each other.

Bures
Koro accommodation starts with 9 beachfront bures at Dere Bay Resort and Koro Beach Resort with rates of FJ$150 and $200 per person per night including meals.

Cottage and Home Rentals

Cottages and homes of various sizes and positions are available to rent.

All information regarding these accommodation options are available by visiting http://derebayresort.com.

Freehold
Koro Seaview Estates, which started in 1998, has 450 acres of freehold land available for foreigners. As of 2013, there are 70 dwellings of various types and sizes owned by people from 26 different countries. There is a mix of full-time residents, and part-time having second homes on Koro.
Power is via solar power with the island also having a biofuel plant. There are no satellite TV's at any homes, which is perfect for me! It's a tropical haven of peace and paradise, with a common theme of 'love for the enviroment'.
More information is found at http://www.koroisland.com.


Koro Google Map

It's recommended that you click 'View Larger Map' here, or directly below the map, for a better full-screen viewing experience.

View Larger Map

Return from Koro Fiji page to Most Popular Fiji Island page
About Me | Contact Me | Search this Site | Privacy Policy 

By Paul Atkin, Copyright © 2012-2014 Amazing-Fiji-Vacations.Com