Home

›
Fiji Honeymoon
›
Where to go for your Honeymoon
Fiji Honeymoons
Where to go

Where in Fiji to go on my honeymoon? There are some places that Fiji honeymoons are especially romantic. Find where is best that suits your style of romanticism.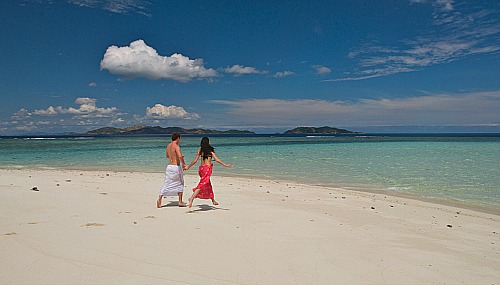 Beach romance at Castaway Island

In the meantime, as to which part of Fiji is likely to suit you both, below will shed some sun... errr I mean light.


Where is best for Fiji honeymoons?

Below is what the location is like and what activities is available on top of what your Fiji resort offers. The more luxurious your resort, the more it offers.

*Refer to our interactive map on our map of Fiji section at your leisure.

Viti Levu

The main island is your point of entry, namely Nadi International Airport in Nadi Fiji. Viti Levu is the most convenient as just a bus or taxi transfer is mostly likely all you need to get to your resort.
Viti Levu also has the most variety of activities, tours, and things to do in Fiji. Nadi and the Coral Coast areas are the best areas for choice and variety.
However, the beaches run a distant second place compared to the outer islands. Snorkeling generally isn't recommended here.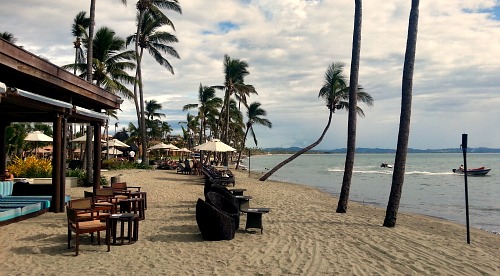 Denarau Island - More luxury resorts and hotels per square inch of sand than anywhere else


Mamanucas
Those picture perfect postcards of island paradises having perfect weather and beaches, that's the Mamanucas. 20 or so string of islands starting just out from Nadi makes it an easy transfer.
It's a watersports heaven including diving, snorkeling, surfing, cruises, sailing, and kayaking. Basically all non-motorised watersports and motorised. The other popular pastime... extreme relaxation.
You really can't go wrong here.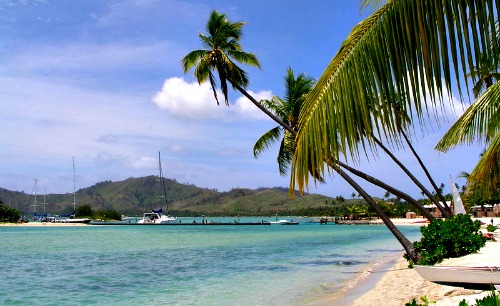 Plantation Island (Malolo Lailai Island), Mamancucas, Fiji


Yasawas
Continuing on from the Mamanucas and you get to the Yasawas. Just as stunningly beautiful, more isolated and less visited.
The 20 or so sparsely populated islands being more secluded means some uber-cosy resorts tucked romantically between beach and palm trees. Diving, snorkeling, cruises, sailing, and watersports again are your pastimes.
The Yasawas are very hard to beat.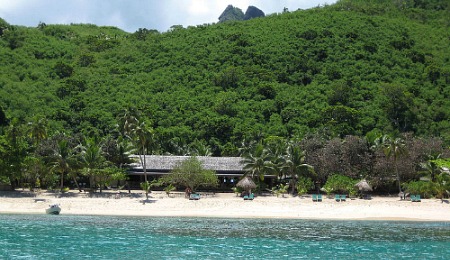 Waya Island, in the Yasawa Group, Fiji


Vanua Levu

The 2nd biggest island and a change of pace from Viti Levu. The lack of tourist infrastucture coupled with a mountainous interior means just a few scattered resorts in the south-east.

Seclusion along with unspoilt beauty makes hiking, tours, and birdwatching a treat. Diving is fantastic with other recommended activities being snorkeling, kayaking, yachting, cruises, and chartering your own vessel.
You'll need a domestic flight from Suva or Nadi. Transfer by boat is possible, although not recommended as it takes significantly longer.


Taveuni
The 'Garden Island' is so named because of it's wild dense tropical rainforest. That means great for birdwatching and also for hiking and tours within. Along it's coast has sporadic black sand beaches. For white sand you need to go to it's smaller off-lying islands which has stunning resorts.

Underwater is just as wonderful as in the interior. Diving and snorkeling is fantastic with incredible corals and sealife including sharks, turtles, manta rays, and if you are lucky whales.
You'll need to transfer from Viti Levu via plane or boat. An interesting note is that the international dateline cuts right through Taveuni. So for the easily amused, you could technically jump from one day to the next and back.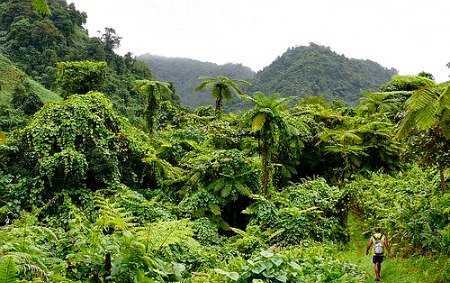 The dense forest on Taveuni, Fiji


Conclusion
So the different island (areas) offer something a little different. What would play the biggest part is the choice of resort, and that is where you should concentrate your efforts. These wonderful resorts can be found via our hub Fiji honeymoon section.
Bottom line. Find an excellent resort and you will have a honeymoon that you've dreamt about. The location is the icing on your honeymoon cake!


Return from Where to go on Fiji Honeymoons page to the hub Fiji Honeymoon page
Return to Amazing-Fiji-Vacations homepage
About Me | Contact Me | Search this Site | Privacy Policy 

By Paul Atkin, Copyright © 2012-2014 Amazing-Fiji-Vacations.Com