Home

›
Suva
›
5 Things to See in Suva
5 Things to See in Suva

What are the must-see's in Suva? Discover the Top 5 things to see here of the capital of Fiji. Find them on the interactive google map included at the bottom.

Contents:

5 Things to See


1. Colo-i-Suva Forest Park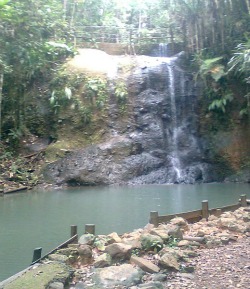 Opening times: 8am - 4pm everyday
Where: Princes Road, Colo-i-Suva (11km north of Suva)
Cost: FJ$5 / $1 child
Telephone: 332 0211
This lush tropical rainforest park, pronounced tholo-ee-soo-va, is located directly north of Suva (check the Suva map at bottom). Located at an altitude of 120m-180m, it's cool and peaceful a welcoming change from Suva's urban life.
It's teeming with tropical birds and flourishing flora. Some of the aspects include:
6.5km  of walking trails
stunning lookout

natural swimming holes and pools
rope swings over water
picnic tables and shelters

change rooms
The 2.5km² forest reserve receives around 420cm of rain a year, so it rains most days so bring appropriate footwear as the trails will probably be slippery.

Public transportation:

Sawani bus from Suva bus station and takes 20min. cost is around FJ$1

Taxi cost is around FJ$15
By Car - take Princes Rd out of Suva, past Tamavua and Tacirua villages


2. Fiji Museum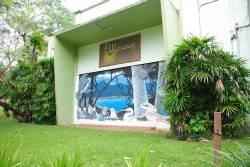 Opening times: Monday to Saturday 9am-4:30pm.
Location: Ratu Cakobau Rd
Cost: FJ$7/$5 child
Telephone: 331 5944
Website: www.fijimuseum.org.fj
It's the oldest museum in the South Pacific and I found it rather informative and very
well maintained. You will find many original
archaeological artifacts and great information on Fiji's political, cultural, and linguist past including it's cannibalistic history.


3. Thurston Gardens & Albert Park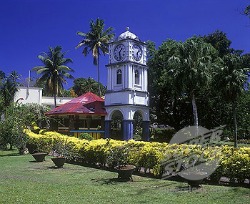 Location: Ratu Cakobau Rd & Queen Elizabeth Dr
Close to the museum, you can walk over there after. With walking trails it has manicured vegetation labelled that only a horticulturalist could understand. A lovely area for a spot of picnic, especially under
the impressive fig trees.


4. Suva Municipal Market

Open times: Monday to Friday 6am - 6pm and Saturday until 4:30pm
Location: Usher St
A great way to spend an hour or two checking out this friendly street market.
You will find a wonderful range of tropical fruits and vegetables. Some of the more recognisable includes tomatoes, sweet potatoes, and chillies while some are not with names I can barely pronounce.

One I can pronounce without any difficulty, is kava. Kava roots are available for FJ$25-40 per kilo and is a gauranteed present pleaser. The less-potent powdered stems are for the tightwads.


5. Government Buildings - Parliament

Address: Battery Rd
Cost: free
Telephone: 330 5811
These impressive government buildings are designed with Fijian cultural aspects throughout including open-air corridors, traditional structures and arts, and masi (bark cloth).
A few options include:
tour of the grounds
sitting in on parliamentary sessions


Suva Google Map

We recommend you click on "View Larger Map" option here, which is also available directly below the map. It converts it to full screen with makes the navigation easier.

View Larger Map

Return from 5 Things to See page to the hub Suva Fiji page
Return to Amazing-Fiji-Vacations.Com homepage

About Me | Contact Me | Search this Site | Privacy Policy 

By Paul Atkin, Copyright © 2012-2014 Amazing-Fiji-Vacations.Com