Home

›
Top 10 Fiji 'Island Resorts'
›
Matamanoa Island Resort
Matamanoa Island Resort Fiji

Want an affordable romantic Fiji getaway? Discover Matamanoa Island Resort in Fiji. An adults-only resort on it's own island ensuring privacy, seclusion, and relaxation.

The contents:

Matamanoa Island - photo courtesy of TripAdvisor


Basics

Name: Matamanoa Island Resort

Location:

Matamanoa Island Resort

, Mamanuca Islands, Fiji

Class: 3½-star intimate resort for couples (children under 16 not allowed)

Accommodation: 20 bures and 13 resort rooms

Transfer: about a 30km air/sea transfer from Nadi Airport/Port Denarau

Reviews: Matamanoa Island Resort's reviews receives on average a very good 88% satisfaction ratings on TripAdvisor (at time of writing)
Who does Matamanoa suit?

It's most suited to couples on a mid-range budget wanting a relaxing isolated tropical island getaway.
It's not suited for families as children under 16 are not allowed.
No day trippers allowed.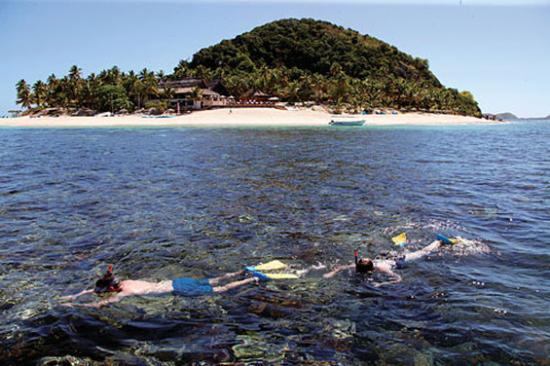 Snorkelling - photo courtesy of TripAdvisor


Location

Matamanoa Island is a tiny 10-hectare island shaped like a chicken leg situated in the Mamanucas. Most of it's fringe is white sandy beaches rising to a hill in the middle. The resort is gorgeously situated on the fat end. Needlessly to say, it's the only thing on the island.

Getting There

Firstly, you need to catch an international flight to Nadi International Airport in Fiji. Then you need a transfer:

Sea - 1. South Sea Cruises has a 90-minute ferry service on a 25-metre cataraman accommodating 145 people. It leaves Denarau Marina once in the morning and once in the afternoon. This is the most inexpensive option.
2. A personal water taxi via Mamanucas Express also leaves from Denarau Marina. It operates 24 hours.
Air - A fancy helicopter ride with Island Hoppers giving you a bird's air view of the stunning Mamanuca islands. It's a 10 to 12-minute ride leaving from Nadi Airport and Denarau Marina. 
Denarau Marina is situated on the upmarket Denarau Island just 20 minutes from Nadi Airport. Personally, if I was on my honeymoon, I would try a helicopter trip to Matamanoa and then the ferry back. Get the best of the both worlds.
For more information, visit our Transport in Fiji page for timetables and contact information.

photo courtesy of TripAdvisor


Accommodation

Matamanoa Island has two accommodation styles to choose from.
1. Beachfront bures - These 20 spacious 54m² Fijian-styled high-ceiling bures have a king size and sofa bed accommodating 3 adults. Each are comfortable with air-conditioning, a hammock, and indoor and outdoor tables and chairs. Bathrooms have his and her basins.
2. Resort rooms - These 13 ground level rooms are much smaller at 26m² and situated in a row amongst tropical gardens. Similar to the bures but with single basins, no sofa bed, and a small patio with a day bed instead.
The beachfront bures is the nicer option here, with the resort rooms having a 'box' feeling to it. If doable, upgrade to a bure.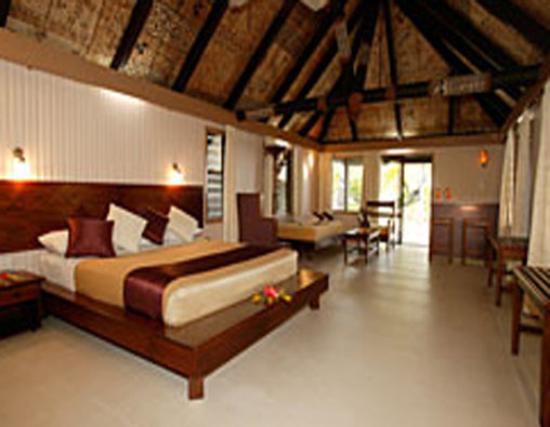 Bure interior - photo courtesy of TripAdvisor


Dining

Simple breakfast is complimentary.
For lunch and dinner you have the option of paying as your go, or choosing one of the meal plans. Beverages other than tea & coffee aren't included in the meal plan.
Check both options, there's a sample menu, upon booking. If you aren't a big eater, then pay-as-you-go is more economical.
Lately, the food has been getting mixed reviews.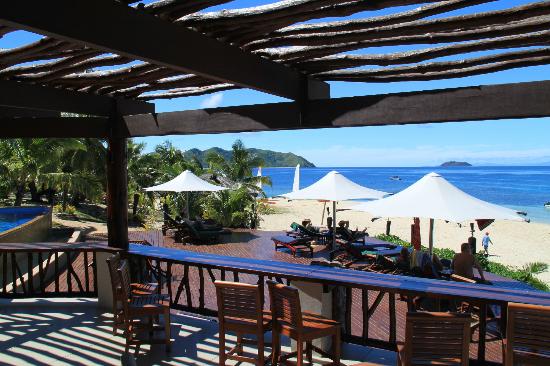 photo courtesy of TripAdvisor

Activities

As per normal for a Fijian mid-range priced resort, non-motorised activities are complimentary. Some include: hikes, canoeing, beach sports, boats, tennis, table tennis, and cultural activities.
Paid activities include: island trips, village visits, scuba diving, snorkelling, cruises, and fishing.

Diving
Scuba diving is a paid activity as is everywhere else in Fiji. Situated in the Mamanucas, there are scores of diving site options. Beginners also are able to learn.

Spa
Veidomoni Spa is the name of the spa at Matamanoa. It's exquisitely located on a cliff in a treehouse overlooking the ocean, which sets the mood with the sounds of the waves and the feel of the breeze.

Massages, body treatments, foot & hand, after sun treatments, facial, and a couple more than aren't in my vocabulary. It's reasonable priced.

As a guest, you receive a 10-minute spa foot ritual.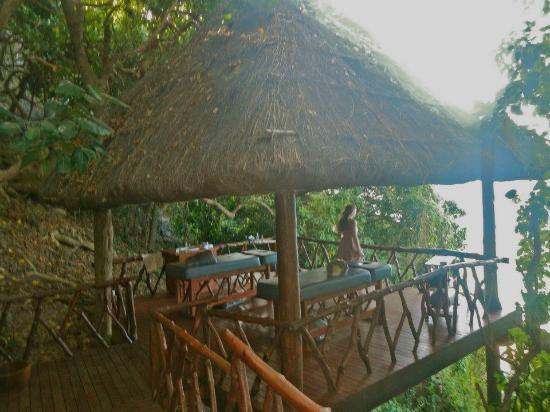 Veidomoni Spa - photo courtesy of TripAdvisor

Rates

Rates up to March 31, 2014 are:
Beachfront bures - FJ$795 per night (3rd person FJ$130 per night extra)

Resort rooms - FJ$495 per night (currency converter)

Rates including simple breakfast and a 10-minute spa foot treatment.
Visit their site at http://www.matamanoa.com/rates.html


Return from Matamanoa Island Resort Fiji to Top 10 Fiji Islands Resorts page
Return to Amazing-Fiji-Vacations.com homepage

About Me | Contact Me | Search this Site | Privacy Policy 

By Paul Atkin, Copyright © 2012-2014 Amazing-Fiji-Vacations.Com