Home

›
Fiji Honeymoon
›
The Fiji Honeymoon Package Explained
The Fiji Honeymoon
Package Explained

Dreaming of a Fiji honeymoon package? I don't blame you. Fiji is a couples dream getaway with stunning honeymoon packages on exotically secluded islands!
The honeymoon packages in Fiji explained contents: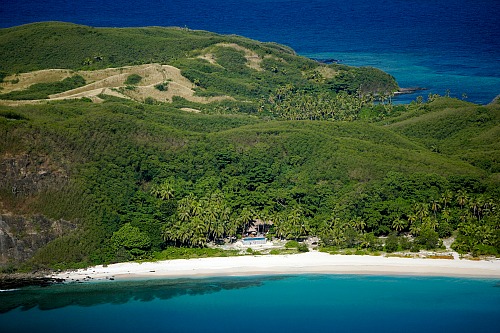 The honeymoon bure at Yasawa Island Resort & Spa

World renown for it's sun, beaches, picturesque islands, and crystal blue waters, Fiji's idyllic settings are a perfect backdrop for that magical once-in-a-lifetime trip. Add a sultry honeymoon package and you have your ideal romantic getaway ready to go.
Packages Defined

The following are a few romantic getaway aspects that I feel are necessary when choosing one of the honeymoon packages to Fiji:
stunning exotic island atmosphere
adults only (no children/under 16 allowed) resort
secluded on beach location
accommodation which ensures privacy
spa facilities
wedding packages (beach wedding - simple or full wedding)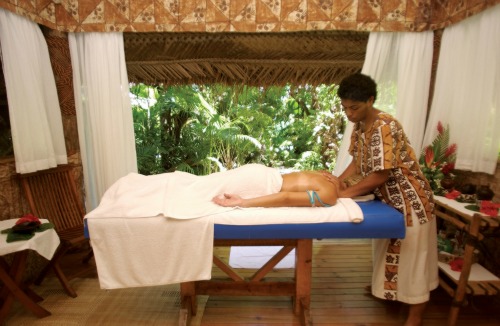 A relaxing massage on Castaway Island

And most of the recommended packages listed in our 'Top 10 Honeymoon Packages in Fiji' section includes:
When it comes to all inclusive honeymoon packages to Fiji, it's generally not offered as such. So, especially for adult-only resorts, each resort offers honeymooners something a little different.
Unique Offer

It's something worth noting, and it may or may not, be a deal-maker. Each resort tends to offer a unique aspect with their honeymoon package.
For example, one offers an afternoon champagne picnic lunch at a nearby uninhabited island. Another offers a private candle dinner on a pontoon in the ocean (I still haven't worked out how you get your dinner). Another has your own beach and bure with a plunge pool, day-bed on the front verandah, hammock, and a butler on standby.
So, enjoy checking out each package, as I certainly did!

Qamea Resort & Spa is in our list


Top Honeymoon Packages

In our opinion, a combination of an adults-only resort with a honeymoon package is a recipe for a magical honeymoon.

Check out our Top 10 Fiji Honeymoon Package List which gives you the best of this combination. There is some truly phenomenal resorts in amazing locations. Be sure to check them all out.
It's literally a once-in-a-lifetime event. An enchanting time awaits you in Fiji.


Return from The Fiji Honeymoon Package Explained page to  Amazing-Fiji-Vacations home page
About Me | Contact Me | Search this Site | Privacy Policy 

By Paul Atkin, Copyright © 2012-2014 Amazing-Fiji-Vacations.Com