Home

›
Fiji Vacation Packages
›
Blue Lagoon Beach Resort
Blue Lagoon Beach Resort Fiji

Curious about stunning Blue Lagoon Beach Resort Fiji? So you should be! Offering budget honeymoon and family packages on a stunning exotic island, it's paradise found.
The Blue Lagoon Resort Fiji contents: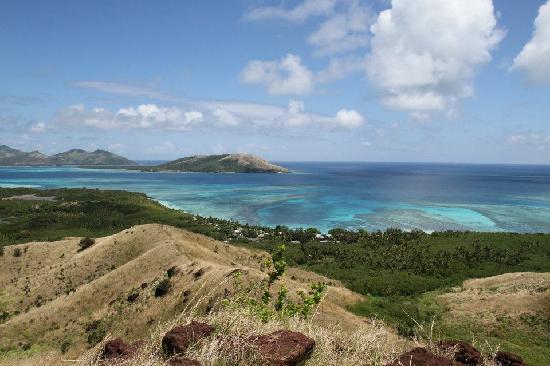 Looking out over the resort - photo courtesy of TripAdvisor


Basics

Name: Blue Lagoon Beach Resort

Location: Nalova Bay, Nacula Island, Yasawa Islands, Fiji
Class: budget island resort for backpackers, couples, and families

Accommodation: ranging from dorms to family beachfront villas

Transfer: 4¼-hour ferry from Denarau Marina or 30-minute seaplane transfer from Nadi Airport
Reviews: it's reviews receives on average an exceptional 96% satisfaction rating on TripAdvisor (at time of writing)

Who does Blue Lagoon Island Resort suit?

It suits solo, couples, and families on a budget, wanting a relaxing tropical island beach getaway. The surroundings are stunningly beautiful. Also, reviews have been nothing short of stellar.

It doesn't suit families wanting a large resort with all the fancy trimmings such as Shangri La Fiji Resort. Also, those wanting a 5-star stay should look elsewhere.


Location
Blue Lagoon Beach Resort Fiji is located on Nacula Island in the stunning Yasawa Islands in Fiji. The Yasawa chain of islands are a group of 20 picture-perfect tropical islands in the north west reaches of Fiji.
Nacula Island is the 3rd largest island in the Yasawa chain, and the resort is so named because of it's famed location, Blue Lagoon.

Getting There

How to get to paradise? After getting your international flight to Nadi International Airport in Fiji, you have three options:
Sea - the most common and the cheapest way is via the Yasawa Flyer ferry catamaran which leaves daily at 8:30am from Denarau Marina on Denara island (20 minutes from Nadi International Airport), and arrives at the resort at 12:45pm.
** As of April 1, 2013 (no not an April fools joke), children aren't allowed to use this service. Another, much more expensive but much faster and convenient, sea option is via personal water taxi, which operates 24 hours.
Air - a 30-minute seaplane is another faster option and not as expensive as you might think, especially for couples.
Depending on your budget, a nifty idea is to take a seaplane then return via the ferry, or vice versa.

Visit our Transport in Fiji section for details. Or enquire when booking.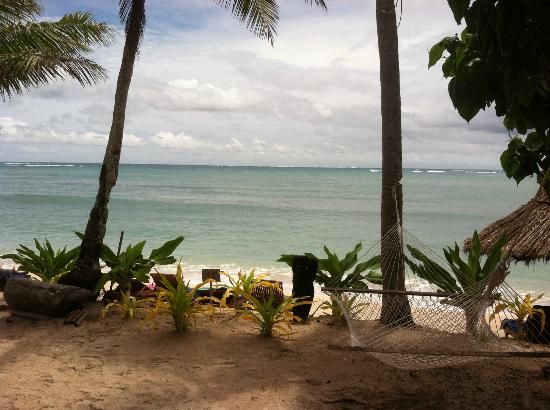 Looking out from a bure - photo courtesy of TripAdvisor


Accommodation
A range of accommodation ranging from inexpensive dorm beds to family beachfront villas. 
The best deals are found for solo and couples. Family rates are pushing the budget into 'mid-range' territory.

Two-bedroom Palms Villa - photo courtesy of TripAdvisor


Dining
Meals are had at the dining room starting your day with continental breakfast. Food throughout the resorts in Fiji are generally fresh and scrumptious, Blue Lagoon Beach Resort Fiji is no different.
The Lagoon Bar quenches your alcoholic thirst including happy hour at 5pm.
If your not on a packaged deal, meal plans are available.

The dining bure and bar - photo courtesy of TripAdvisor


Activities
Yes, you've come to Fiji to relax. These activities will help break up your day between sleeping, eating, and relaxing:
paddle boarding
snorkelling
kayaking
boating
fishing

island hikes
village visits
cultural activities such as basket weaving
movie nights
Most of which are complimentary.
An activity which some would argue as the highlight is a visit to the Sawa-i-Lau caves. The mystic nature of these limestone caves makes you think there is a Fijian god presiding over it.

photo courtesy of TripAdvisor


Rates
Blue Lagoon Beach Resort Fiji has various options. Simple dorm beds start at NZ$30 per night. There are some great value Fiji vacation packages available starting at NZ$1,671 for 2 people for 5 nights, which includes accommodation, meals, and sea transfers.
Families with 2 young children are looking at roughly double the packaged rates starting at NZ$3,284 for the garden villa for 5 nights.
A currency converter is found at our Fiji money section.

Visit their website at http://bluelagoonbeachresort.com.fj for full details.


Return from Blue Lagoon Beach Resort Fiji page to Fiji Vacation Packages page

Return to Amazing-Fiji-Vacations.com homepage

About Me | Contact Me | Search this Site | Privacy Policy 

By Paul Atkin, Copyright © 2012-2014 Amazing-Fiji-Vacations.Com