Home

›
Fiji Diving
›
Top Fiji Scuba Diving Resorts
Top Fiji Scuba Diving Resorts

Want access to the best Fiji scuba diving? Explore pristine diving by staying at the top Fiji dive resorts. These tropical resorts are situated in prime diving locations sometimes offering exclusive diving.

The Top Fiji Scuba Diving Resorts contents by location: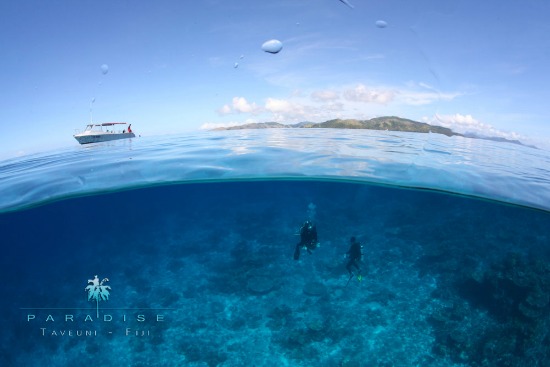 Paradise Taveuni Resort

Taveuni
If you're an avid diver than no doubt you've heard of the world famous Somosomo Straits housing the stunning Rainbow Reef. Snorkellers aren't left out either on Taveuni with Vuna Reef easily accessible off the southern tip, with abandoned beaches pegging for a relaxing picnic afterwards.
A direct domestic air transfer from Nadi will take 90 minutes.
Paradise Taveuni Resort (coming)
Qamea Island Resort (coming)

Garden Island Resort (coming)
Nakia Resort & Dive (coming)


Vanua Levu
The second biggest island of Vanua Levu is centred around Savusavu for tourism, and so is the diving. Also, around 30 km south is Moody's Namena Resort on Namenalala which sits right on top of the protected Namena Barrier Reef marine reserve.
A domestic air transfer from Nadi Airport will take around 1hour 10minutes to Savusavu.
Jean-Michel Cousteau Fiji Islands Resort (coming)
Koro Sun Resort (coming)
Moody's Namena (coming)


Riding on the Namale Pearl from Namale Fiji Resort & Spa

Viti Levu

Viti Levu is the main island and your point of entry via Nadi. A domestic flight is needed to access the outer islands for the best diving. However if you wish to stick to the main island then Pacific Harbour and Beqa Lagoon are your best bets.
Beqa Lagoon
Pacific Harbour is the gateway to the world renown dive paradise of Beqa Lagoon (pronounced Benga). The one underwater activity you must do there, is to witness the hand-feeding of many and varied sharks from young pups to huge jaw-dropping monsters. The 2 Fijian feeders have not had an incident in the 7 plus years of coming face to face with these massive predators.
Beqa Lagoon Resort 

(coming)
Coral Coast
Uprising Beach Resort 

(coming)

Crusoe's Retreat 

(coming)
Rakiraki
Wananavu Beach Resort 

(coming)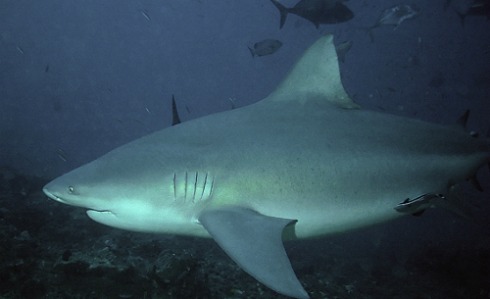 Bullshark at Beqa Lagoon, Fiji


Kadavu
The Great Astrolobe Reef is the big drawcard for divers here, with people from all around the world coming to experience it's unspoilt delights. Remote, few visitors, and fantastic diving, could it get any better? 
A domestic 50-minute flight transfer from Nadi Airport is needed to get here.
Matana Beach Resort (coming)
Matava Resort (coming)
Papageno Resort (coming)

Map of Top Fiji Scuba Diving Resorts
Hover or click in the map key. (More will be added to this map over time, it's just the beginning!)

Note: with so many resorts offering great diving, this list is an ongoing project and may change as information comes to hand.

Return from Top Fiji Scuba Diving Resorts to Amazing-Fiji-Vacations.com homepage
About Me | Contact Me | Search this Site | Privacy Policy 

By Paul Atkin, Copyright © 2012-2014 Amazing-Fiji-Vacations.Com