Home

›
Taveuni Island
›
5 Things to do on Taveuni
5 Things to do
on Taveuni Fiji

Heading to Taveuni Fiji for your dream getaway? Then discover these top 5 Things to do on Taveuni adding another dimension to your already fantastic Fiji vacation.
As you're probably already aware from reading the hub Taveuni Island Fiji section, Taveuni Island is fantastic for the outdoor types. Nature rules here, above and below the water line.

1.  Scuba Diving Rainbow Reef

Rainbow Reef will need no introduction to the avid divers our there, which is probably half the reason you are coming to Taveuni. To the uninitiated, Rainbow Reef is world renown for it's stunning soft coral including schools of fish and other bigger animals if you're lucky. Inquire at your resort for dive options.

2.  Hike Bouma Heritage National Park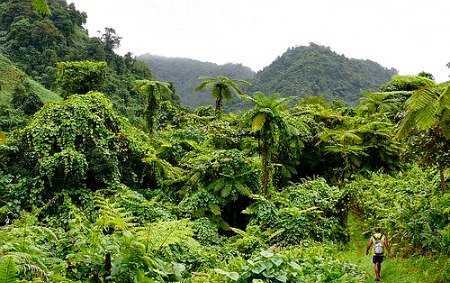 As you can see from the map above, Bouma Heritage National Park is the large chunk in the middle and east part of the island. The main attraction is the three waterfalls with the first one an easy 10-minute stroll. The later two require more proper hiking including using your hands. Changing rooms, benches, and a BBQ are available. Inquire at your resort for the latest information including entrance fee.

3.  Lavena Coastal Walk

For something a bit less strenuous than hiking, the relaxing Lavena Coastal Walk should do the trick. It starts at Lavena Village half way down the east side (check map above) and goes down the south eastern coast. It's a guided walk showing beautiful views including waterfalls if you go to the end.  Inquire at your resort.
4.  Snorkel Vuna Reef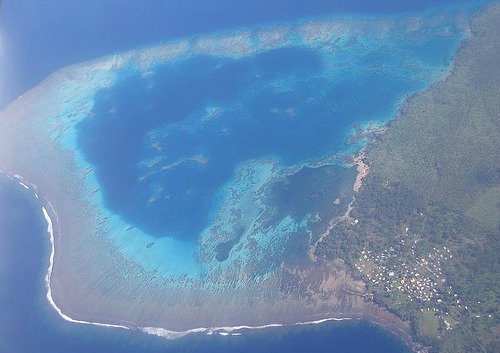 Off the south west tip, as shown on the map above, lies Vuna Reef. You'll encounter all sorts of colourful coral and little creatures and is a snorkeller's delight.
5. Time Travel

What am I talking about? The 180-degree meridian cuts straight through Taveuni Island as the map in the picture shows. It's just a 10-minute walk south of Waiyevo and if you're easily amused, then you can enjoy 'time travelling' from one day to the next.
Return from 5 Things to do on Taveuni Fiji page to the hub Taveuni Island Fiji page
Return to Amazing-Fiji-Vacations.com homepage

About Me | Contact Me | Search this Site | Privacy Policy 

By Paul Atkin, Copyright © 2012-2014 Amazing-Fiji-Vacations.Com