Home

›
Music of Fiji
›
Indo Fijian Music
Indo Fiji Music

What is Indo Fiji music? Find out here music that is popular with the Indo-Fijian population which emanated from half way across the world.

Just like it's language, Fiji Hindi, Indo Fiji music has developed it's own niche so to speak. It's no surprise that, even today, it's heavily influenced from the motherland, India.
India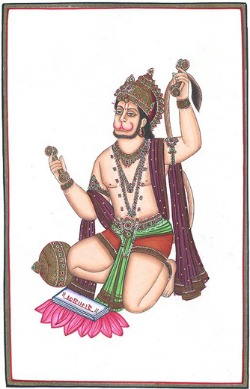 Indo-Fijians' (Fiji Indian) ancestors came from the subcontinent, predominantly India. The music in India has a history spanning over a millennia, over several genres and many groups of people.
In Fiji, ancient forms bhajan and qawali are popular as well as modern day music such as jazz, Bollywood music, and Indian dance and pop.

Bhajan
A Bhajan can be defined as any type of devotional song. It has no fixed form and can range from something as simple as a mantra to much more sophisticated types which involves musical instruments such as a harmonium and a dholak. Bhajan music is also popular with Indo-Fijian expatriates living abroad.
                          [Hanuman, a Hindu deity, visualised here as a singer of bhajan]

Qawaali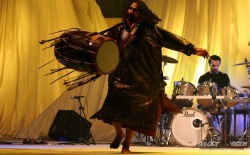 Qawaali is a form of sufi devotional music, that has it's origins in 8th century Persia, today's Iraq and Afghanistan. The word qawaali means 'utterance in the name of Allah'.
In Indo-Fijian culture, modern day Fijian qawaali is quite different to classical qawaali, with some purists snubbing this new style.
Classical qawaali involves playing with tabla, however, in Fiji with historically few tabla players, dholak took it's place and hence the new style was born.

Traditional Instuments

Dholak
The dholak is a two-headed hand drum from South Asia. It can be played while sitting down, resting on the player's lap or pressed down with one knee sitting on the floor, and standing, with the drum slung over the player's shoulder or waist. Notable dholak players are Sashi Roy who was born in Nadi Fiji, and Shailendra Prakash Sharma.

| | |
| --- | --- |
| dholak | tabla |
Tabla
The tabla is a percussion instrument similar to the bongos. It's origins date back to 500 BC in Hindu culture. It involves extensive use of the fingers and palms in various configurations to create a diverse range of sounds. Cassius Khan is an international star who was born in Lautoka, Fiji.


Return from Fiji Music page to Music of Fiji page
Return to Amazing-Fiji-Vacations.Com homepage

About Me | Contact Me | Search this Site | Privacy Policy 

By Paul Atkin, Copyright © 2012-2014 Amazing-Fiji-Vacations.Com