Home

›
All About Fiji
›
Fiji Animals
Fiji Animals

Want to know about Fiji animals? Find out here above and below the water. Read up on what are native and which you'll likely to encounter on your trip.
The Animals in Fiji Contents:
Given Fiji is an isolated group of islands, you would think that there would an abundant of native wildlife. That's not really the case.

Mammals
Native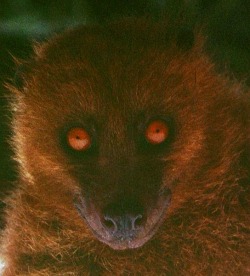 6 species of bats including the fruit bat (beka)

The introduction of animals to Fiji had a disastrous effect on some of the native animals. Two big-footed, mound eating birds and the giant flightless pigeon instantly became extinct. It's also believed native snakes, frogs, and birds also became extinct for the same reason.
Today you will see introduced animals such as goats, the mongoose, pigs, rates, and mice.

[Monkey-faced bat, found only on Taveuni and is critically endangered]


Birds

Native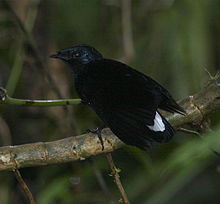 26 species of birds are endemic to Fiji

There are 57 species of birds in Fiji, and as stated 26 are endemic. The introduction of bird species has forced some native birds into forests. Some species can only be found on one or two islands including the orange dove of Taveuni and the cardinal honeyeater of Rotuma.
[Silktail - only found on Taveuni and Natewa Peninsula, Vanua Levu]
Fiji's rarest bird kacau is featured on the back of the FJ$50 note, and can only be found on the island of Gau in the Lomaiviti group. Around 23 types of tropical sea birds can also be seen in Fiji.
If you want a thorough, and I do mean thorough, explanations of birds in Fiji, visit the List of Birds in Fiji in Wikipedia.
Birdwatching
If you're a birdwatcher, then you are in for a treat. Great locations to do a spot of birdwatching are:
Taveuni - home to over 100 species
Kadavu - wild, rugged, untamed, and lush Kadavu island is home to a diversity of birds
Colo-i-Suva Forest Park near Suva (more information in our 5 Things to See in Suva section)

Kula Eco Park on the Coral Coast
Savusavu (on Vanua Levu) local rainforests


Reptilians & Amphibians

Native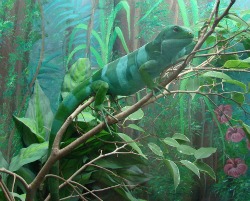 2 types of iguanas - crested iguana and banded iguana
2 types of snakes - Pacific boa and Fiji burrowing snake
4 types of sea snakes

There are some 27 species of reptiles, most being lizards. There are 5 species of turtles that can be found, which is discussed on the next page. The cane toad introduced in 1936 also feeds on native frogs, so have retreated back deep into the forests.                                               [Fiji banded iguana - endemic to Fiji]

Marine Animals

Your knowledge of Fiji animals continues with marine animals on our Underwater Animals in Fiji page...


Return from Fiji Animals page to the hub All About Fiji information page
Return to Amazing-Fiji-Vacations.com homepage

About Me | Contact Me | Search this Site | Privacy Policy 

By Paul Atkin, Copyright © 2012-2014 Amazing-Fiji-Vacations.Com