Home

›
Getting Around
›
The Yasawa Flyer
The Yasawa Flyer

Need to get to your exotic island resort in Fiji? The Yasawa Flyer takes you on a stunning island hopping trip to your resort in the Mamanucas and Yasawas!
'The Flyer' contents: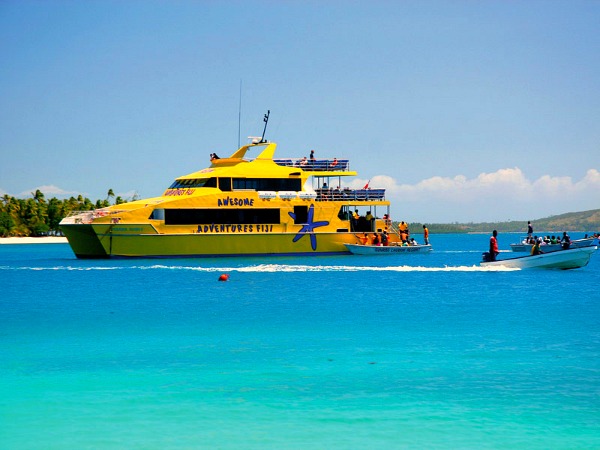 About
The Fiji island hopping adventure at your service!
The Yasawa Flyer, otherwise known as 'The Yellow Boat' or 'The Flyer', is a comfortable high-speed catamaran that island hops dropping off and picking up sun-kissed tourists for the Yasawa Islands.

It passes through 3 islands in the Mamanuca Islands (South Sea Island, Beachcomber Island, and Vomo Island) on it's way through to the Yasawas. For those going to other islands in the Mamanucas, South Sea Cruises is your option here.
The Flyer's schedule:

once daily


departs 8:30am and arrives back at 5:45pm

Denarau Marina on Denarau Island (20 minutes from Nadi Airport)
Tip: If you're heading straight from Nadi International Airport to Denarau Marina, a FJ$30 taxi ride is a good option. (I can't guarantee the fare rate though!)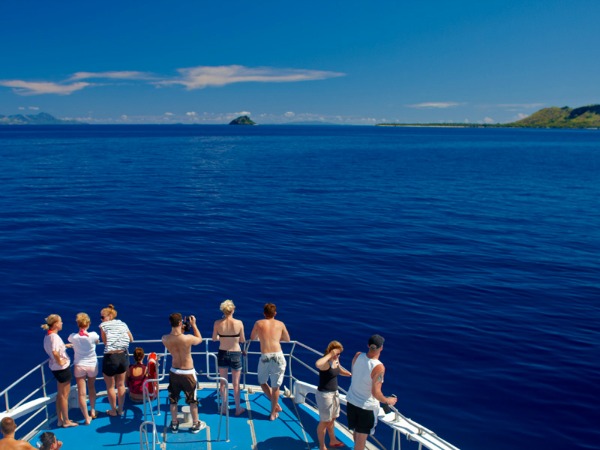 Time



 8:30am

 9:00am

 9:15am

 9:45am

 10:30am

 11:00am

 11:30am

 11:45am

 12:00pm

 12:30pm


 1:00pm


 1:30pm

Travel Time


-


30min

45min

1hr15min

2hr

2hr30min

3hr

3hr15min

3hr30min

4hr


4hr15min



4hr30min

Island/Resort



South Sea Island

Beachcomber Island

Vomo Island Resort

Kuata, Wayalailai & Naqalia

Octopus Resort

Mantaray & Barefoot

Botaira Island Resort

Korovou & White Sandy Beach

Bay of Plenty, Navutu Stars & Long Beach

Oarsmans, Blue Lagoon, Nabua & Safe Landing

Nanuya, Gold Coast, Coralview & Otto & Fanny's

Time to Denarau


-


30min

45min

1hr15min

2hr

2hr30min

3hr

3hr15min

3hr30min

4hr


4hr15min



4hr30min

Time



 5:45pm

 5:15pm

 5:00pm

 4:30pm

 3:45pm

 3:15pm

 2:45pm

 2:30pm

 2:15pm

 1:45pm


 1:00pm


 1:30pm
* Accurate from November 2013. Times and locations are subject to change anytime.


Bula Pass

The 'Bula Pass' is your transfer option for your pre-booked white-sand beach resort(s) in the Yasawa Islands and selected Mamanuca Islands.

How it works

Choose the length of your pass (starting at 5 days and up to 21 days). Your Bula Pass is valid for travel on board Awesome Adventures' Yasawa Flyer for transfers between Denarau Marina, South Sea Island, Beachcomber, Mana and Malolo Island (Mamanuca Islands), in addition to all the Yasawa Island destinations on the Yasawa Flyer route. All changes between Awesome Adventures' vessels and South Sea Cruises' vessels must be done in the Islands. The Flyer hops between resorts and islands for the consecutive number of days designated. Your Bula Pass is activated on the first day of travel and remains valid until the last day inclusively.
It's important to note that although your transfers are paid for, reservations must still be made for all transfers at least 24 hours prior to departure and accommodation MUST be booked before disembarking the Yasawa Flyer. You will not be allowed to disembark the Yasawa Flyer unless you have pre-booked accommodation on the island. This requirement is because resorts are often fully booking so walk-ins will not always work. All accommodation bookings can be made at the Travel Desk on board Yasawa Flyer or contact Awesome Adventures reservations.
Fares
Valid for travel until 31 March 2014

5 days

$218


7 days

$284

10 days

$374

12 days

$412

15 days

$449

21 days

$494
Valid for travel between 1 April 2014 to 31 March 2015

5 days

$234

7 days

$304

10 days

$400

12 days

$440

15 days

$480

21 days

$528
* Rates are in Australian dollars (AU). Fares are subject to change anytime.



Reservations
Visit the company's booking page Awesome Adventure Fiji - Bula Pass here.


Map

The route of the 'The Flyer' to the Yasawa Islands via the Mamanuca Islands.



Awesome Adventure Fiji

The Yasawa Flyer is operated by Awesome Adventure Fiji and has been servicing the Yasawa Islands for 15 years. They also offer a very flexible transfer + accommodation (Bula Combo Pass) service, incorporating almost 20 islands and over 30 resorts! That means you can hop on and off islands as you please!

For this popular pass and more including gorgeous packages, visit the Awesome Adventure Fiji section. (coming)


Return from Yasawa Flyer page to Amazing-Fiji-Vacations.com homepage

About Me | Contact Me | Search this Site | Privacy Policy 

By Paul Atkin, Copyright © 2012-2014 Amazing-Fiji-Vacations.Com