Home

›
All About Fiji
›
Westpac Fiji
Westpac Fiji

Want to know about Westpac Fiji? Find out about one of the biggest and longest serving banks in Fiji, established back 1901.

The contents are:

Westpac Banking Corporation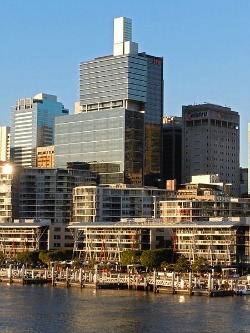 Westpac is a portmanteau (a combination
of two words and their definitions) of
'Western Pacific' and is registered as
Westpac Banking Corporation. It's
headquarters is at Westpac Place in
Sydney, Australia. [pictured right]
It's a multinational financial services
provider offering a range of financial
services in the consumer and corporate
sectors. It started off in 1817 as the
Bank of New South Wales then
changing to Westpac in 1982. Presently
it's operating in Australia, New Zealand,
and seven South Pacific nations including
Fiji. It plans on extending it's operations
to London.

History
It first started operations in Fiji in 1901 which brings 112 years of serving the community in 2013.

Today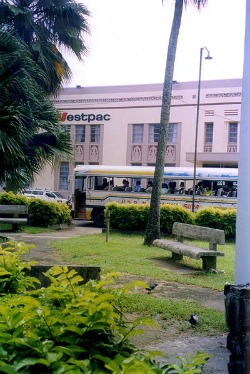 Today, it has 20 branches throughout Fiji
and a size-able 40% of the market share.
It employs more than 470 staff and in
January, 2013, opened a dedicated
personal banking centre in Lautoka.
According to the bank's General Manager
Adrian Hughes it was the first branch of
it's kind ever in Fiji.
It's headquarters is [pictured right]:
     Westpac House,
     Level 1 & 2,
     73 Gordon Street
     Suva, Fiji

It's general contact number is:

      (679) 132 032
The following products are offered in the personal and business sectors:
Personal


Bank accounts 
Home loans

Personal loans

Cards

Personal services

Business


Bank accounts 
Cards business

lending products

International products

Business services
Visit it's website at http://www.westpac.com.fj/
Branch Locations

It has branches in most of the significant towns. Ten towns in Vanua Levu, two in Vanua Levu, and one is Levuka, Ovalau. To find out more, visit it's locator page http://westpac.banklocationmaps.com/fiji/.


Return from Westpac Fiji to the hub All About Fiji information page
Return to Amazing-Fiji-Vacations.com homepage

About Me | Contact Me | Search this Site | Privacy Policy 

By Paul Atkin, Copyright © 2012-2014 Amazing-Fiji-Vacations.Com