Home

›
All About Fiji
›
Sport in Fiji
Sport Fiji

When you think of sport Fiji, it's rugby. How about other sports? Find out here everything from their religion of rugby to other popular sports.

The Sport Fiji contents are:

Rugby Union

One afternoon I was in the beautiful Denarau golf clubhouse watching the 7's rugby. Then all of the sudden, the staff stopped working and crowded around one of the TV sets... it was 7's rugby and the Fiji game was about to commence. This beloved sport is thoroughly covered in our Fiji Rugby section.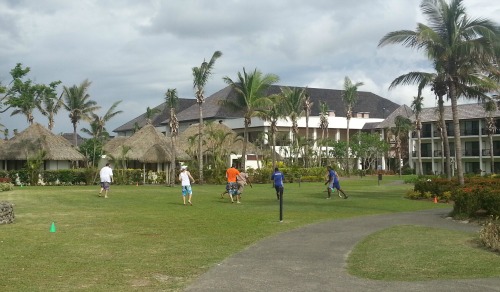 Staff are usually more than happy to throw the rugby ball around with you


Rugby League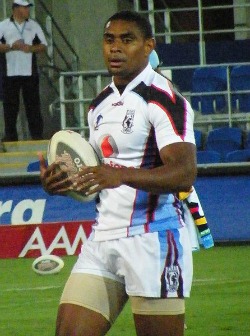 Rugby league is a popular sport in Fiji and is similar, and not to be confused with, the game rugby union. The domestic Fiji rugby league competition (FNRL) consists of
twelve teams divided into 2 conferences.

Fiji has always produced stars in rugby and they usually go on to have careers in Australia or Europe. Their national team known as 'The Bati' played exceptionally
well in the 2008 Rugby League World Cup Competition by making it to the semi-finals.
In the 2013 world cup, they received a
major boost with the legendary Petro Civoniceva's decision to play for his birth nation, and will lead Fiji out as captain. As of November 2012, the Bati was ranked 7th in the world.                                                           [Wes Naiqama - one to watch in World Cup 2013]


Other Sports

There are various sports with it's own culture and following. Below are some of the more notable sports in Fiji.

Soccer
Soccer is a popular sport especially with Indo-Fijians.

Netball
Netball is to Fijian women as rugby is to Fijian men. The national women's team is top 10 in the world and has won the South Pacific and Pacific titles every year since 1991. As of July 2011, they are ranked 7th in the world.

Golf
Golf was made famous in Fiji by Indo-Fijian professional golfer Vijay Singh. 'The Big Fijian' was ranked number 1 in the world for 32 weeks in 2004 and 2005. 
Fiji has a range of golf courses, including world class courses which I don't play on. More information is found on our golf holidays section.

Outrigger Paddling
Another popular sport, and a Pacific product, is outrigger paddling or Va'a. Va'a means 'boat','canoe', or 'ship'. It is a unique part of the Pacific culture and is a competitive sport in the South Pacific Games.
Outrigger Fiji is the national federation that oversees the sport in Fiji.


Notable Fijian Sport Stars

A list of notable Fijian sports stars can be found here on Wikipedia - List of Fijian Sportspeople.


Return from Sport Fiji page to the hub All About Fiji information page
Return to Amazing-Fiji-Vacations.com homepage

About Me | Contact Me | Search this Site | Privacy Policy 

By Paul Atkin, Copyright © 2012-2014 Amazing-Fiji-Vacations.Com