Home

›
Getting Around
›
Mamanuca Express
Mamanuca Express
Need to get to your resort in the Mamanuca Islands Fiji? Mamanuca Express is Fiji's premiere water taxi service, getting you to your island resort, quickly and safely!
The contents:

About
Mamanuca Express is Fiji's premiere water taxi service offering drop-offs throughout the Mamanuca and Yasawa Islands. They also specialise in fishing charters, island hopping, and private & corporate cruises.
There is over 28 years of experience in the sea transport industry, and they presently operate 4 modern vessels ranging from a 4-seater vessel 'Black Watch 25' fitted for fishing, to a large 33-seater vessel 'Maxi' great for island drop-offs. 
Denarau Marina (20 minutes from Nadi Airport)
24 hours
Benefits
This comfortable water taxi service will get you to your resort quickly, safely, and at any hour of the day or night. Mamanuca Express is perfect for late arriving flights and for early morning departure flights. 
It is also the ideal transfer option for those wanting to avoid an overnight stay on the mainland or those small to medium groups looking for a personalised service when travelling to and from your Mamanuca island resort.
You also avoid the queues of the traditional ferry services (which operate only during the day).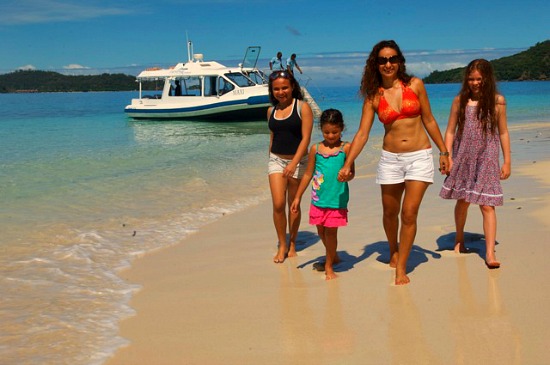 Mamanuca Resort Connections
If you've booked your relaxing getaway on one of the stunning Mamanuca Islands, then a Mamanuca Express water taxi service can get you there 24 hours a day, quickly and reliably. That means more time at your island resort!
Mana Island, Malolo Island, Plantation Island, Castaway Island, Likuliku Lagoon, and Musket Cove are all around 45 minutes one way.
Mamanuca Map
Hover or click the options in the map key:

A bit farther past the Mamnuca Islands are the Yasawa Islands, equally as beautiful and more remote. Mamanuca Express can also get you to the lower islands in the Yasawas, far away from everything!
Travel Times
Destination

Vuda

Bounty Island

Treasure Island

Beachcomber Island

Walu Beach

Likuliku

Plantation Island

Musket Cove

Lomani Resort

Castaway Island

Malolo Island

Mana Island

Amunuca

Tokoriki

Matamanoa

Vomo

Nanuya

Viwa

Travel Time

16 mins

22 mins

29 mins

30 mins

45 mins

45 mins

45 mins

45 mins

45 mins

46 mins

46 mins

51 mins

60 mins

60 mins

60 mins

60 mins

1 hr 50 mins

2 hr 15 mins
Fares
Fares start, one way, at around:
Up to  4 people - AU$478
Up to  8 people - AU$558
Up to 12 people - AU$774
Up to 16 people - AU$966
* Fares are subject to change

Charters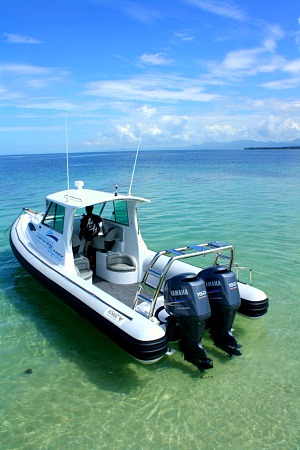 The Mamanuca Islands offers some truly exquisite sights and activities which epitomises tropical island getaways.
Why not charter one of their vessels while Mamanuca Express' professional and personal services ensures that you can enjoy the following and more, worry free:
snorkeling
diving
surfing
kayaking
fishing
visit a perfect tropical island
laze on remote beaches
enjoy a selection of the many bars and restaurants from a myriad of island resorts
cocktails at sunset
romantic picnic on a remote beach
island hopping adventure
Whether you're a couple, a family, or a
group of hearty adventurers, there are over 15 islands for you to explore. Not to mention all the friendly marine life under the water!


Reservations
For reservations contact them on the following:

Return from Mamanuca Express page to Amazing-Fiji-Vacations.com homepage
About Me | Contact Me | Search this Site | Privacy Policy 

By Paul Atkin, Copyright © 2012-2014 Amazing-Fiji-Vacations.Com