Top Honeymoon
Packages to Fiji
The 'Top 10 Honeymoon Packages to Fiji' resorts list below, specifically cater for the couples market. So you can rest assure that there won't be little kids nibbling at your ankles or boat loads of day trippers or party goers flowing in and out of your secluded resort.
Each resort offers honeymooner's anywhere from -as is-, which is a gorgeous adult-only resort in an exotic location, to complimentary bonuses such as:
transfers including helicopter transfers
all meals
all drinks including alcohol
special honeymooner's bure
boat trip to a secluded atoll for a romantic picnic
complimentary bottle of champagne
massage(s)
something unique from the resort e.g. hand carved plaque with both your names
Be sure to check the honeymooner's section of your desired resort for updated specials or packages information.
Below are chosen resorts which matches the criteria on our Fiji Honeymoon Packages page. The list of 'Top 10 Honeymoon Packages to Fiji' starts from the more expensive and goes down.
* Note, rates can vary depending on times of the season to current packages/specials being offered.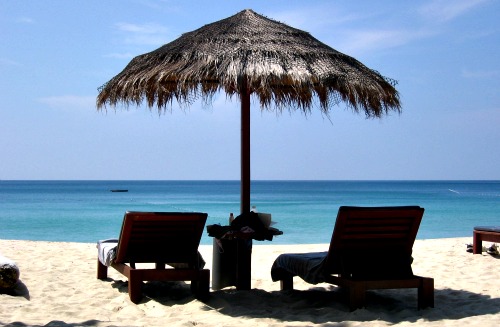 Honeymoon packages to Fiji... exotic, romantic and relaxing

Let's see which one of the Honeymoon Packages to Fiji catches your romantic eye...
TOP 10 Honeymoon Packages to Fiji

1. First off the rank is the jaw dropping Taveuni Island Resort & Spa . It has won many awards including: "Connoisseurs Choice from Resorts & Great Hotels of the World" and "One of the Top 100 Places in the World to Visit before You Die"! The ultimate is the exclusive Matalau private villa. At US$1495 per night for 2 adults, this private and luxurious villa comes with your own private plunge pool and waterfall, private outdoor showers, your private beach, as well as your own personal chef and staff.
2. Have you wondered where the famous couples-only treehouses are, which are 5 meters up in the canopy? This one of kind setup, on a privately owned island, belongs to the small and intimate Matangi Island Resort . With wrap around decks, romantic king-sized day bed, outdoor jetted jacuzzi tub, outdoor lava rock shower are some of the amenities high up in the canopy. With a nightly room rate at $US950 + tax per treehouse, it's a lovers paradise.
3. Qamea Resort & Spa is highly acclaimed especially with it's spa facilities and it's 20-foot high ceilings and thatched roofs. It has 2 exquisite honeymoon bures and a honeymoon bure which boasts such romantic luxurious features as: a covered day bed off the beachside deck with privacy curtains, a bathroom that can open onto a private courtyard which has a natural stone Jacuzzi spa pool and romantic outdoor river stone showers. They can whisk you away by boat and drop you off on a totally private beach with the resort's Fijian chef prepared picnic lunch that comes with a bottle of wine or champagne. It also has a Qamea Jungle Spa Night where the entire spa will be yours for the evening.
4. "Lomani" is the Fijian word for love. This gives you an idea what Lomani Island Resort on the tranquil island of Malolo Lailai caters for. Spacious and with only 12 Luxury Suites and 5 Beachfront Bures, it aims for privacy. A huge pool, big bamboo 4-poster king-sized beds, some with outdoor showers, are some of the aspects which ensures a relaxing romantic stay. A special note is the option in the wedding package for four Fijian warriors to carry the bride on a decorated bridal chair. The days of cannibalism in Fiji are long gone so she'll be left unharmed.
5. The luxurious Tokoriki Island Resort is a secluded resort ideal for couples on romantic getaways. 26 Deluxe Beach Bures and 8 Sunset Pool Villas just a few steps from the beach, having outside day beds, hammocks, indoor and outdoor showers, and some with private plunge pools for extra romance. The romance package currently includes: a massage, a bottle of champagne, a gift basket and a private picnic on your own private beach a 15 minute scenic boat ride away, spending the day relaxing, snorkelling, swimming, and devouring the gourmet picnic lunch and French champagne prepared by the chef.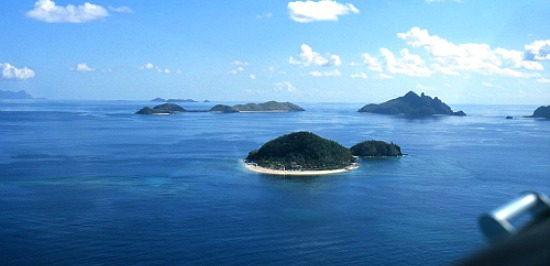 The Mamanucas... stunningly exotic and secluded
6. Are you ready for Navuta Stars ... secluded island with one intimate resort, only 10 beachfront bungalows with 8-metre high roofs spread along 3 bays, soaking tub for 2 in the living room, private deck with a beach hammock, and miles and miles of unspoilt beach. Voted among the Sexiest Resorts in the World by Condé Nast. They have seasonal specials including year round specials of: stay 5 nights pay for 4, stay 7 pay for 6, and stay 10 pay for 8.
7. Matamanoa Island Resort is an intimate and secluded resort on the small island of Matamanoa. No children under 16 or day trippers ensures peace and tranquility. 20 Beachfront Bures & 13 Resort Rooms with all the necessities including air conditioning. The honeymoon bonus consists of champagne & a fruit basket and a hand carved plaque with the couples names etched.
8. The environmentally conscious Nukubati Island Resort is designed for couples and offers just 7 bures and suites meaning, you'll only ever share the resort with 6 other couples. It doesn't have spa facilities however it has a range of activities and also a whopping 3000+ book library for something different!
9. Moody's Namena is a secluded resort on the private island of Namena. It has just 6 bamboo/wood/cane hexagonal bures and are located on a ridge with ocean views. Each bure is spaced hundreds of yards apart for maximum privacy. It's 'clubhouse' is on the clifftop which includes the restaurant, bar, library, lounge, and panoramic views. Moody's Namena is something different than the usual 'bure on the beach' which Fiji is known for, however it has no wedding package offers or spa facilities.
10. The small and intimate Natadola Beach Resort has a tranquil 11 suites (maximum of 22 guests) with the pool at the suites back door. Great setting for R&R. With miles on pure white sand and plenty of activities available including horse riding on the beach. No spa facilities however honeymooners receive a bottle of champagne.

Return from Honeymoon Packages to Fiji page to Fiji Vacation Packages page

Return from Honeymoon Packages to Fiji to Fiji Honeymoon Packages page

Return to Amazing-Fiji-Vacations home page
About Me | Contact Me | Search this Site | Privacy Policy 

By Paul Atkin, Copyright © 2012-2014 Amazing-Fiji-Vacations.Com