Home

›
Fiji Honeymoon
›
Top Honeymoon Fiji Tips
Top 5 Honeymoon Fiji Tips

Want the hottest honeymoon Fiji tips? Discover the top tips to make sure your Fiji honeymoon is that once-in-a-lifetime magical event that you've always imagined.

If you're choosing/considering Fiji as a honeymoon destination, then you are probably already aware of Fiji's glowing vacation reputation...
all year tropical weather
stunning beaches
beautiful nature
picturesque islands

secluded hideaways
Fijians are THE friendliest people in the world
And if you're on this page then you've probably already read our Fiji Honeymoon page (if you haven't you should start there), so let's get straight to the hottest Fiji Island Honeymoon tips...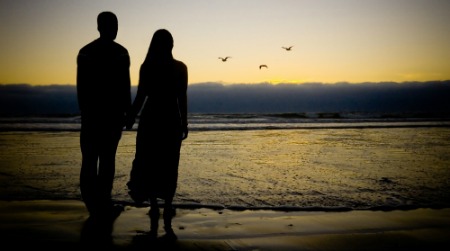 Tip #1 - Choose a adults-only or couples-only resort

There really is a smorgasbord of outstanding Fiji honeymoon hotels or rather, resorts. Whilst honeymoon packages are common amongst many resorts, we would suggest choosing to adults-only or couples-only resorts.
Here are some of the reasons:
These resorts are tailor made for romantic getaways and couples
Usually in a secluded location or/and remote island to maximise privacy

No large crowds since the resorts and smaller in size with couples-style bures

No day trippers permitted

No children are allowed to stay
Relaxed sultry ambiance with activities, events, restaurants tailor made for couples

Specialise in weddings and honeymoon packages

Where can I find these resorts? Glad you asked... discover them on our Top Fiji Honeymoon Resorts section.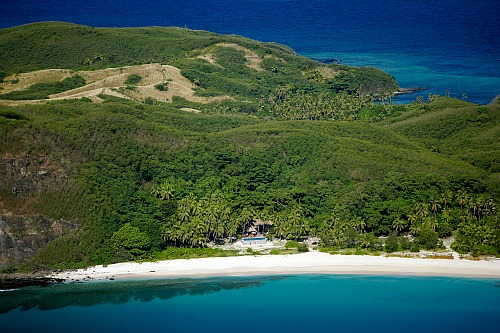 The honeymoon bure at Yasawa Resort & Spa in the Yasawas.


Tip #2 - Have a good look at each resort

If you've had a look at our recommended 'Top Fiji Honeymoon Resorts' list, then you've probably already got a couple resorts on your short list.
A careful investigation, especially into the honeymoon Fiji packages, you would realise that each is a little different. The resort location varies, e.g. some encompass the whole island whereas another is on it's own island with plenty of uninhabited nature for you and your partner to get 'accidently lost'. ;-)
Another again offers the lucky couple to be dropped off at a uninhabited sand atoll for the day, with just a picnic lunch including champagne, towels, and a beach umbrella.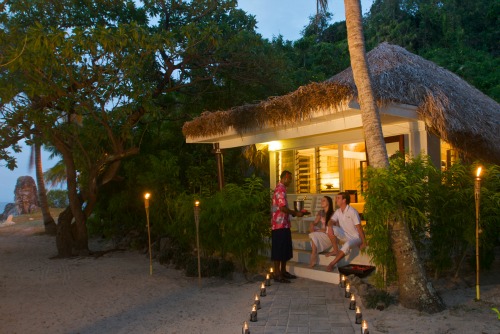 Champagne delivered to your bure on Castaway Island

A carefully chosen resort/package perhaps just made your experience more magical!

Tip #3 - Choose the best time of year to go

Yes Fiji is an exotic paradise with all year round warm weather. Even though the weather doesn't vary much, you can narrow it down to find the perfect time. Also, avoiding the crowds always makes it more relaxing.
Go to our Fiji Tourism Information section to find out when the best time to go is.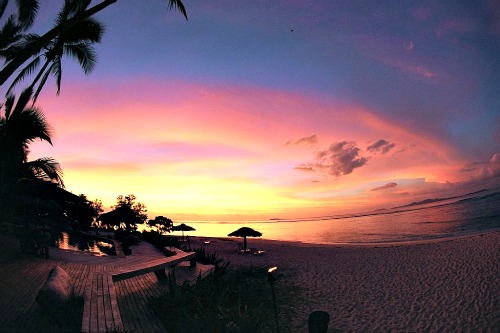 Sunset at Tavarua Island


Tip #4 - Do couple orientated activities

After all, this is your once in a lifetime romantic adventure. Ideally you'd want to be doing activities that's conducive to you and your partner doing things together.
Suggestions would include:
deserted island couple picnic trip (as stated above, organised by the resort)
candlelight dinner on the beach or on a small pontoon on the ocean (check with resort)

horse-back riding (not many offer this)
snorkeling
kayaking
Visit the Fiji Activities page for more ideas.

A deserted sand atoll... all for you.

Tip #5 - Take a cruise

Cruises are a great way to view Fiji from the water. Various itineraries and lengths, from a day to 7 nights, are available.

It's a fun way to explore, island hop, and generally just relax under the warm sun and on the beautiful waters of Fiji.


Return from Top Honeymoon Fiji Tips page to hub Fiji Honeymoon page
Return to Amazing-Fiji-Vacations homepage

About Me | Contact Me | Search this Site | Privacy Policy 

By Paul Atkin, Copyright © 2012-2014 Amazing-Fiji-Vacations.Com