Home

›
All About Fiji
›
Fiji Flags (part 2)
Fiji Flag List

What is the Fiji flag? Find out about the national flag of Fiji and the history of it. We also delve into the other Fiji flags that are in use.
This flags page continues on from our Flag of Fiji section which is about the national flag of Fiji and it's history. This page will talk about other flags of Fiji.
Ensigns
National ensigns, as those listed below, are national flags used in certain circumstances, predominantly as maritime flags for vessels at sea, but also in the air on aircrafts, and as emblems or badge such as a symbol of office. 


On Water


Civil Ensign of Fiji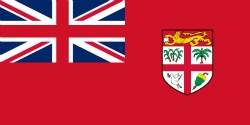 This civil ensign, sometimes known as merchant flag or merchant ensign, is the variation of the national flag flown by civil ships (merchant ships, yachts, recreational boats and ships) as opposed to military, to denote a country's nationality, in this case Fiji. Some countries use the same national flag for all vessels on sea, government
military ships and merchant ships. Not so for Fiji.
Naval Flags

The vessel's flag denotes which country the watercraft is registered in, in this case Fiji. Naval flags are considered important at sea, and rules and regulations for the flying of flags are strictly enforced.


Government Ensign of Fiji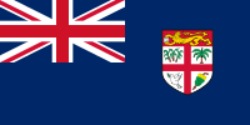 This government ensign or state ensign is flown by government ships such as coast guard ships. It is believed that Fiji has 3 Pacific-class patrol boats built and donated by Australia.



Naval Ensign of Fiji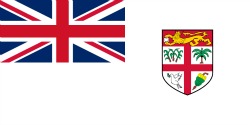 This naval ensign of Fiji is used by Fiji's
navy. At time of writing it consisted of a
fleet of nine waterborne military vessels.
It recieves military aid from Australia,
China, and the U.K..



In the Air


Civil Air Ensign of Fiji

This civil air ensign of Fiji is flown by civil aviation, that is both private and
commercial airplanes. It's also possibly
flown from the buildings connected with
civil aviation.

Air Ensigns
The first half of the 20th century saw the creation of air forces and civil aviation. A range of flags and ensigns were developed. Depending on the nation, ensigns are divided between the air force and civil aviation. In Fiji's case, it's air force had 2 helipcopters donated by France, but it's believed now it just has one transport aircraft.


Return from Fiji Flag List (part 2) page to Flag of Fiji (part 1) page
Return to the hub All About Fiji information page
Return to Amazing-Fiji-Vacations.com homepage

About Me | Contact Me | Search this Site | Privacy Policy 

By Paul Atkin, Copyright © 2012-2014 Amazing-Fiji-Vacations.Com