Home

›
All About Fiji
›
Vodafone Fiji
Vodafone Fiji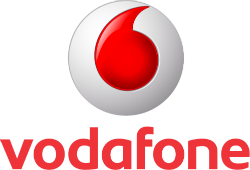 Want to know more about Vodafone Fiji? Find out about Fiji's leading telecommunications company and it's history until today. Vodafone in Fiji has been the leading telecommunications company. It's main rival is Digicel.

The telecommunications company is a partnership with Amalgamated Telecom Holding Fiji and Vodafone Group Plc. ATH
was set up to consolidate and manage
the government's investments in the telecommunications sector.
Vodafone's network went live in July 1994 and were the only service providers, monopolising the market, for more than 13 years. Competition came in October 2008 in the form of Digicel Fiji Limited. The currently CEO is Aslam Khan.

Vodafone
Vodafone Group Plc is a British multinational telecommunications company based in London and Berkshire. It is the world's second-largest mobile telecommunications company, behind China Mobile, with 439 million subscribers at Dec. 2011.
It started out in 1982 in the U.K.. It owns and operates networks in 30 countries and has partner networks in a further 40 countries. It spans Europe, The Americas, Africa, The Middle East, Asia, and Oceania.
Vodafone owns a minority (49%) in it's Fijian operation.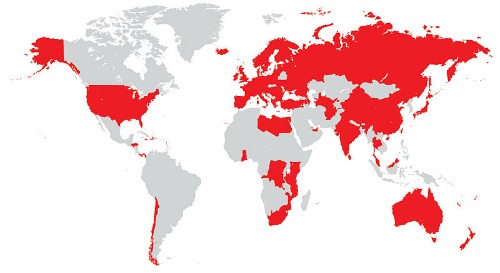 Vodafone's global footprint

Sponsorships
The telecommunications company sponsors a range of activities throughout Fiji. It had sponsored iconic Fiji rugby, during which Fiji 7's won the world cup in 1997, until the 10-year deal ceased in 2004.
Sponsors to date (May 2013) include:
Sports - Fiji golf, Fiji rugby league, soccer, and boxing

Music - Aiysha Saagar, and George Fiji Veikoso
Festivals and Pageants - Bula festival, Hibiscus festival, and Miss South Pacific
Others - including tribewanted

Vodafone Area

Vodafone arena is a multipurpose arena in Suva Fiji which has the capacity to seat 4,000 people. It houses 3 international sized basketball courts. It can be used for other sporting activities including non-sporting activities, with nowadays being used primarily for netball.

Headquarters
It's contact details are:
      Vodafone Fiji Limited
      168 Princess Road
      Tamavua, Suva
      Fiji Islands
      Phone: (679) 331 2000
      Fax: (679) 331 2007
      Business Registration Number: 10658
      http://www.vodafone.com.fj


Return from Vodafone Fiji page to the hub All About Fiji information page
Return to Amazing-Fiji-Vacations.com homepage

About Me | Contact Me | Search this Site | Privacy Policy 

By Paul Atkin, Copyright © 2012-2014 Amazing-Fiji-Vacations.Com