Home

›
Viti Levu (main island)
›
Natadola Beach & Around
Natadola Beach Fiji
What is the best beach on the main island of Viti Levu? Find out about Natadola Beach, tucked out of the way with snorkelling, horse riding, golf, and more.
The Natadola Beach Fiji contents:
Natadola Beach - photo courtesy of Intercontinental Resort Fiji

About
You've probably heard 'Natadola Beach Viti Levu's best beach' being mentioned before. To be fair, there isn't much competition on the main land. Away from Viti Levu on the outer islands is where the white sand beaches are so pretty, you won't want to leave.
As you'll see in the map below, Natadola Beach is tucked away, off the beaten track, in the south west corner of the mainland. There's a couple of Natadola accommodation options,  however, Natadola is not far away from Nadi or the Coral Coast. I smell a road trip!

Day Trip
If you've hired a car and are travelling around the south of the Viti Levu, if from Nadi (around 45-min) or the Coral Coast (30-min from Sigatoka), then Natadola is definitely worth a stop. From when I was last passed through it's signposted, and from Queen's Rd, Maro Rd is the turnoff you need.
I naively went to Natadola thinking to try out the just-completed Natadola Bay Championhip Golf Course. As a once-a-year hacker, I took one look at the challenging sloping greens...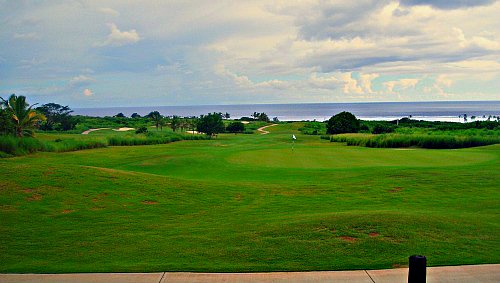 ...and this is my view from the clubhouse having a frosty beer instead. The views are rather nice although you wouldn't notice it in this overcast photo.
Other activities include:
swimming
horse-back riding (you can't miss them, they will hunt you down)
sports & game fishing (Kalevu Sports Fishing Jetty)
Navo restaurant
coastal train ride (to/from Sigatoka)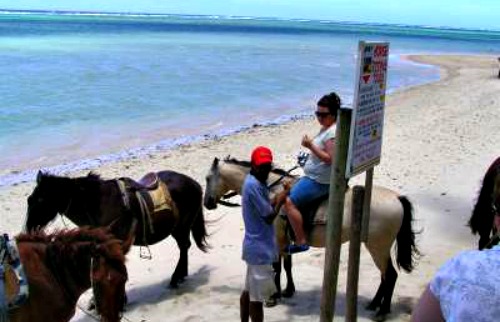 Buses are also available from Nadi or the Coral Coast. Ask the driver.
I have heard you can walk there from around Shangri-La Fiji Resort, although you'd have to
be particularly energetic as it'll take you
around 3 to 4 hours, although you could catch the bus or train back.

Natadola Accommodation
In the Natadola area, accommodation comprises of an intimate couples friendly resort and a newly constructed 5-star resort with a championship golf course:
Intercontinental Resort Fiji (coming)
Natadola Beach Resort (coming)
And a little farther down from Natadola Beach Fiji on it's own 'island' connected to the mainland via a causeway:
Shangri-La Fiji Resort & Spa (coming)

Natadola Map
Hover or click in the map key for descriptions. (this map will fill out over time!)

Return from Natadola Beach Fiji page to Viti Levu page
About Me | Contact Me | Search this Site | Privacy Policy 

By Paul Atkin, Copyright © 2012-2014 Amazing-Fiji-Vacations.Com