Great activities!
by Kaela
(Redcliffe, Australia)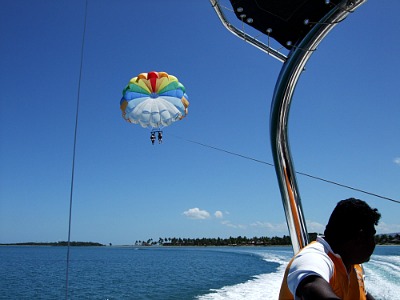 My daughter and me para-sailing
The first time I went para-sailing, I was a bit apprehensive to go up. But I felt more comfortable pairing up with my daughter.

How exciting it was to be up there feeling the fresh air and wind blowing through my hair. How exciting it was seeing the view from up there. Our resort was bigger than i thought and I could see islands further out.

Another thing I enjoyed was the kayaking. The water was so clear, we could see the fish swimming beside us and you can reach out and touch them.

After I got back from kayaking, I enjoyed the tropical fruit and food, not to mention the entertainment while we were having our lunch.

Another activity I really enjoyed was doing the ziplines through the forest! That was equally as thrilling! We all had a great time that day too.

Also, Fijians are just so friendly and natural. I love them!

It was such a great experience. I won't hesitate to recommend a fiji holiday to anyone who's thinking of going.

Join in and write your own page! It's easy to do. How? Simply click here to return to Fiji Vacations invitation.
About Me | Contact Me | Search this Site | Privacy Policy 

By Paul Atkin, Copyright © 2012-2014 Amazing-Fiji-Vacations.Com