Home

›
All About Fiji
›
Geography of Fiji
Geography of Fiji

Want to find out about the geography of Fiji? Discover the makeup of this wonderful set of islands called Fiji, or simply just 'paradise' to some people!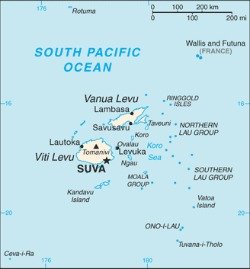 Fiji, the official name being the Republic of Fiji, is a group of volcanic islands (archipelago) located in the South Pacific Ocean. It's location is 4,450 km (2,775 miles) southwest of Honolulu, Hawaii and 1,770 km (1,100 miles) north of New Zealand.
Viti Levu (Great Fiji) is the largest island containing 57% of the land area and around 70% of the population. It has a mountainous interior including the highest peak, Mt Tomanivi. There are four large rivers: Rewa. Navua, Sigatoka, and Ba.

Vanua Levu is the other big island containing
30% of the land area and around 15% of the population.
Other island and island groups contain 12.5% of the land area and around 12.5% of the population are: Taveuni, Kadavu, Mamanuca group, Yasawa group, the central Lomaiviti group, and the remote and scattered Lau group which is close to Tonga.
There are two outlying regions, Rotuma which is 400km to the north of Viti Levu, and Ceva-i-Ra an uninhabited coral atoll 450km southwest.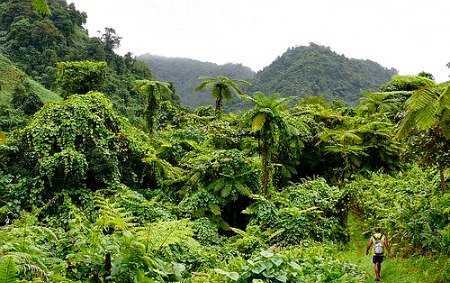 The mountainous interior of Taveuni

Statistics
Location: Island group in Oceania in the South Pacific Ocean
     Co-ordinates: 18°00′S 179°00′E
Area: 1.3 million km²
Land area: 18,300 km²
Islands: 332 plus around 500 islets, around 110 permanently inhabited
Coastline: 1,129 km
Climate: Tropical marine with only slight seasonal temperature variation (visit our hub Fiji Weather section for extensive information)

Terrain: Mostly mountains with volcanic origins and beaches
Elevation extremes:
     Lowest point: Pacific Ocean 0 m
     Highest point: Mount Tomanivi 1,324 m
Natural resources: Timber, fish, gold, copper, oil (offshore), hydropower
Land use:
     Arable land: 10.95%
     Permanent crops: 4.65%
Natural hazards: Cyclones can occur from November to January

Environmental issues: Deforestation and soil erosion
Extreme Points of Fiji

Extreme points of Fiji, are the locations that are the fartherest points within Fiji in terms of the fartherest north, south, east, and west.
Northernmost point - Uea Island, Rotuma
Southernmost point - Tuvana-i-Colo Island
Easternmost point - Vatoa Island
Westernmost point - Viwa Island


Return from Geography of Fiji page to the hub All About Fiji information page
Return to Amazing-Fiji-Vacations.com homepage

About Me | Contact Me | Search this Site | Privacy Policy 

By Paul Atkin, Copyright © 2012-2014 Amazing-Fiji-Vacations.Com