Fiji Cultural Aspects
by Gary
(Brisbane, Australia)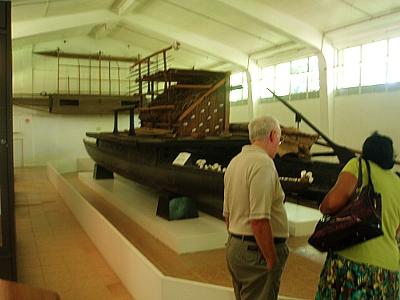 A ocean-going boat from long ago
There are many aspects of Fiji I enjoyed.

In particular the friendly attitude of the Fijian people and their openness especially with their history prior to the arrival of the Europeans.

The museum in Suva, although small gave a good insight of their culture and history. The standard of workmanship in the building of ocean-going boats without the use of any form of metal was impressive.

The staff at the souvenir shop were exceptionally good explaining all the various aspects of their elaborate carving in regard to cooking utensils, weaponry and items of cultural significance in regard to cheiftan protocol.

While visiting Port Denarau something that I didn't expect, being a 3rd world country, was the standard of food and service at restaurants. It was superb!

I thoroughly enjoyed my experience, and am planning to go again in view of taking more boat trips to the outer islands and resorts.
Join in and write your own page! It's easy to do. How? Simply click here to return to General Story Invitation.
About Me | Contact Me | Search this Site | Privacy Policy 

By Paul Atkin, Copyright © 2012-2014 Amazing-Fiji-Vacations.Com