Home

›
Tourist Information
›
Public Fiji Holidays
›
Events & Festivals
Events & Festivals
in Fiji

What are the festivals in Fiji? Discover when and where they are here. It's a chance for you to experience a real side of Fijian life away from the resorts.

Fiji's cultural diversity is reflected in that each of the major religions in Fiji has a public holiday dedicated to it. Also, Fiji's cities and towns hold annual festivals to celebrate something important to the city/town that the carnival is held in.


Festivals & Events

Along with the public Fiji holidays, here's a few major festivals & events that are celebrated. Festivals, especially, are a fun time of giving and socialising. (the public holidays aren't included in this list)

Feb/Mar
Hindu Holi (Festival of Colours) - people squirt coloured water at each other in Lautoka.
March/April
Ram Naumi (Birth of Lord Rama) - A Hindu religious festival at Suva Bay.
Fiji International Jazz Festival - on the Coral Coast.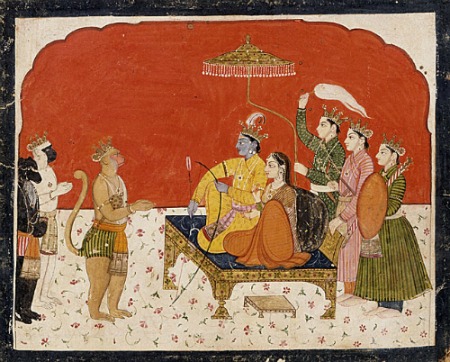 Rama's Court - the god-king Rama

July/August

Fiji Ocean Swim - an international swimming event at Beachcomber Island in the Mamanucas (www.fijiswim.com)

Bula Festival - one of fiji's biggest festivals. There are rides, music and also the crowning of 'Miss Bula' in Nadi.
August
Hisbiscus Carnival - floats, rides and the crowning of 'Miss Hibiscus' Festival  in Suva

Hindu Ritual Fire Walking
September
Coral Coast Festival - in Sigatoka
Fiji Regatta Week - at Musket Cove Resort (in the Mamanucas)

Sugar Festival - in Lautoka
Friendly North Festival - in Labasa
October
Ram Leela (Play of Rama) - this festival is centred around the god-king Rama and is celebrated in Vunivau, near Labasa
October/November
Diwali Festival (Festival of Lights) - Hindus worship Lakshmi, the goddess of wealth, prosperity, and the embodiment of beauty.

[A statue of Lakshmi is pictured right]

November
 South Pacific World Music Festival - in Savusavu
November 11th
Armistice Day (Remembrance Day) - in Suva.


Return from Events & Festivals in Fiji to All About Fiji page

Return to Fiji Holidays (Public Holidays) page
Return to Amazing-Fiji-Vacations.Com homepage

About Me | Contact Me | Search this Site | Privacy Policy 

By Paul Atkin, Copyright © 2012-2014 Amazing-Fiji-Vacations.Com