Home

›
Maps of Fiji
›
Fiji Map
Fiji Map

What does paradise look like? Discover with the Fiji map here a closer look at the exotic archipelago in the South Pacific, all 332 parts of it. (Our Map of Fiji Information page is the hub page for all maps of Fiji.)

Fiji, sometimes known as the Fiji Islands, and officially known as the Republic of Fiji, has 332 islands, around 110 are inhabited, and 500 islets. The total land area adds up to be 18,300km² or 7,100 miles².
Population
The estimated population of Fiji is 896,000 (est. July 2013). 87% live on the two biggest islands of Viti Levu and Vanua Levu, with most living along Viti Levu's coastline.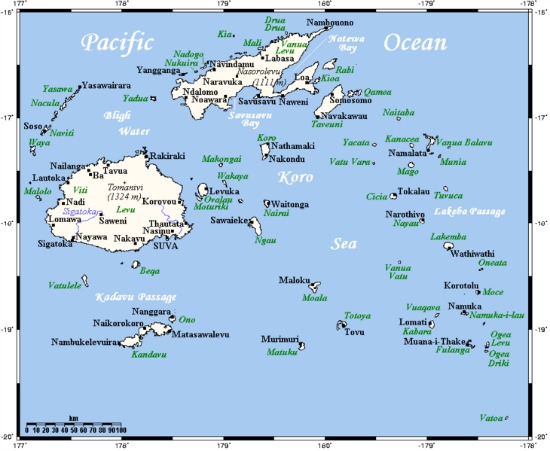 Administrative and Provincial Divisions

As shown by the coloured map of Fiji to the right, Fiji is divided into four major administrative divisions:
Central
Western
Northern
Eastern
These administrative regions and then divided into 14 provinces:
Ba
Bua
Cakaudrove
Kadavu
Lau
Lomaiviti Province
Macuata
Nadroga-Navosa
Naitasiri
Namosi
Ra
Rewa
Serua
Tailevu
During the reign of Ratu Seru Epenisa Cakobau, Fiji was divided into 3 governments or confederacies. They are not considered political divisions per se, but is considered important in the social divisions of Indigenous Fijians.
The Burebasaga Confederacy
The Kubuna Confederacy
The Tovata Confederacy

The warlord Ratu Seru Epenisa Cakobau reigned as the King of Fiji (Tui Viti) from 5 June 1871 - 10 October 1874 and was responsible for uniting Fiji's warring tribes to establish a united Fijian kingdom.

A map of Fiji to the correct scale showing the far flung islands of Rotuma (top) and Ceva-i-Ra (bottom left)

This latest map shows how Fiji can be grouped into 9 island groups which are designated by colour:
Viti Levu
Vanua Levu
Mamanuca group
Yasawa group
Taveuni
Kadavu
Lomaiviti group
Lau group
Rotuma
Rotuma is a remote dependency of Fiji, although they are ethnicly (Polynesian) and linguisicly different to that of Melanesian Fiji. They are known as Rotumans.


Return from Fiji Map page to the hub Map of Fiji page
Return to Amazing-Fiji-Vacations.com homepage

About Me | Contact Me | Search this Site | Privacy Policy 

By Paul Atkin, Copyright © 2012-2014 Amazing-Fiji-Vacations.Com